Learn how to strengthen your immune resilence and overcome resistance to change by engaging our senses and seeing food and cooking in a different light
September 15, 2021
12:30 pm - 1:15 pm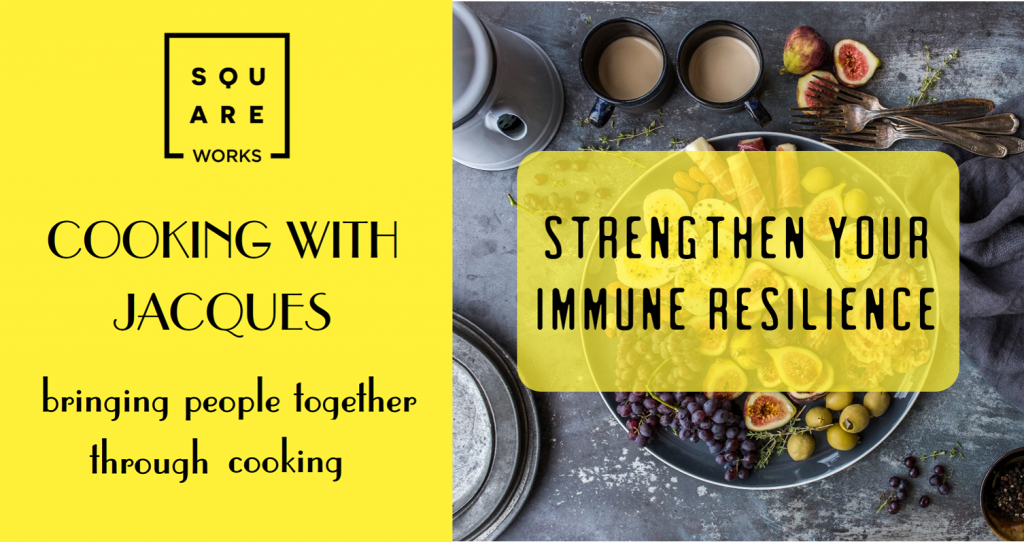 Join Teresa and Jacques for this Lunchtime Talk on optimal health and wellbeing through nutrition and our capacity to change. Teresa will focus upon strengthening our immune resilience, an important aspect behind many health issues, and Jacques will discuss how we can overcome resistance to change by engaging our senses and seeing food and cooking in a different light.  We will provide examples of nutritional snacks.
This talk will end in a Q&A for anyone who has specific questions on aspects of their nutrition and wellbeing.
About the hosts:
Teresa is a nutritional therapist with a private practice DipCNM,  mBANT, CNCH, ANP and Jacques is a self-employed cookery tutor who has run workshops for organisations including St Monica Trust and LinkAge.
This is a mini version of a longer workshop, which you can catch on the 22nd of September, where your hosts will explore the topic further.
This is a free event for all Square Members and will take place over at Square Works in the Abraham Room. To book a spot, please contact the Square Works reception desk.
You might also like