Sunday Roast at The Square
The best Sunday Roast in Bristol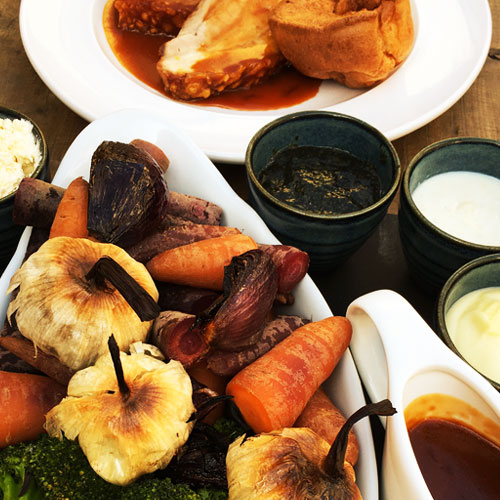 Here at The Square, we pride ourselves on being good at weekends – combat the Sunday blues with a delicious roast at The Square Kitchen. From 12-3.30pm we'll be serving what some say is the best Sunday roast in Bristol (not to mention the South West) – have a read of our testimonials here. All our meat and fish is responsibly and locally sourced, then cooked to perfection by our talented chefs. Served alongside crispy, fluffy roast potatoes and Yorkshire puddings, plus all the veg and trimmings, it's the perfect way to round off your weekend (not to mention with the accompaniment of our well-stocked bar and expertly chosen wine list). View our menu now.
Speaking of which, why not finish off (or warm up to!) the best Sunday roast in Bristol with one of our Ultimate Bloody Marys? It's a delicious combination of tomato juice, vodka, spices and fruit – garnished with a slice of crispy bacon (£6 for this or another featured cocktail of the week). A Virgin Mary is also available without the vodka (£3). Just ask your waiting staff on the day.
Take advantage of our Sunday Lunch Offer or our Vouchers
2 COURSES for £16.50
 –  OR  –
3 COURSES for £19.75
(T&Cs apply. Subject to availability. Not valid on Bank Holidays.)
Sunday Lunch Menu
Served 12pm – 3.30pm Sunday afternoons
Starters
Subject to change due to weekly specials – please ask your waiting staff
Soup of the day 5.5
Ham hock and duck terrine, chutney, toast 6.5
Goat's cheese mousse, beetroot, grapefruit 6.5
Mains (all 12.5)
*We have carefully selected wines to compliment your main course
Sirloin of beef, horseradish
*Malbrontes Malbec-Torrontes, Mendoza, Argentina
Pork belly, apple sauce
*Cabernet Franc, Pays d'Oc, France
Chicken breast, bread sauce
*Macon Village, Burgundy
Cod fillet, capers buerre noisette sauce
*Waipara Hills Sauvignon Blanc, NZ
All the above are served with duck fat roast potatoes, seasonal vegetables, and a Yorkshire pudding
Nut roast (mushrooms, spinach, lentils) (V)
*Cotes du Rhone Blanc Vin Gourmand, Viogner
Sides
Cauliflower cheese 3.5
Ratatouille 3.5
Honey glazed parsnips 3.5
Selection of olives and homemade breads 4.75
Homemade breadboard 3.5
Desserts
Dessert of the day – subject to change, please as your waiting staff
West-country cheeseboard, trimmings 7.95 (12.95 for two people)
Selection of homemade ice creams and sorbets (3 scoops) 5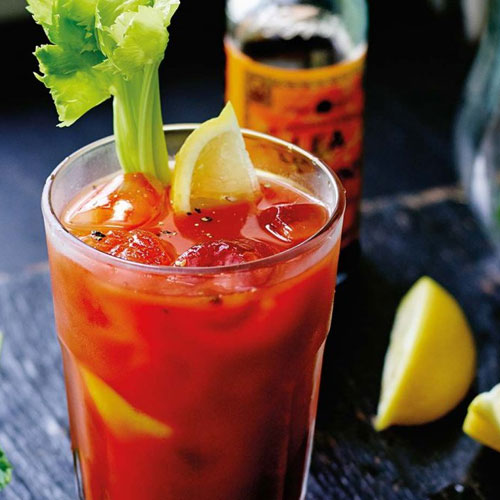 TESTIMONIALS
Fabulous Sunday lunch – this place really lives up to the promise of the best Sunday roast in Bristol. We both had pork which came with great apple sauce, perfect crackling and a good selection of vegetables. Would definitely recommend a visit. – March 2017
Just the best Sunday afternoon! By far one of the best Sunday roasts… The staff were really spot on and it gets better, very good value for money – we will definitely be going back. – L. Pothecary
Lovely! Excellent food, great service, lovely decor and atmosphere. – K. Wellings
Best Sunday lunch – having tried Browns and the Botanist, both full, we saw a sign to the 'Square'. We were welcomed, at 2pm and proceeded to have one of the best Sunday lunches we had all ever eaten. £19.75 for 3 courses, each course was absolutely faultless. One could argue that there was too much to eat, and indeed, there was left over, perfectly cooked vegetables. Difficult not to tell them that it seemed under priced…a pretty spectacular Bloody Mary too. Would I make a special trip again from Cardiff? Most certainly! – February 2017
Roast was amazing and was worth the money, service was excellent – L. Thompson
One of the best Sunday roasts we've had in a long time! Incredible food and the service was outstanding. We had two chaps looking after us and both were fabulous (one was a lovely French guy who we had a chat with at the end and was very friendly)! Will definitely recommend and visit again! – L. B. Collins
Great Sunday roast – I'm picky with roasts but this had perfectly cooked meat, great crispy (but fluffy) potatoes and thick gravy. One of my fave Bristol roasts actually. The choc tart is also amazing! – September 2016
Try the roast beef – it's just gorgeous! – L. Racks
Sunday Lunch Vouchers

Once you've bought your voucher, BOOK YOUR TABLE HERE! Please bring confirmation of purchase email when dining for your Sunday lunch. This offer is running until 30/11/17, and is not available in conjunction with any other offer. Reservation required. NB – our last available Sunday roast pre-Christmas will be on Sunday 19th November; any vouchers purchased after this point will be redeemable in January 2018.