Join us for a French food and wine pairing evening, hosted by Ben Franks of Novel Wines. Induldge in a 9-course tasting menu curated by Head Chef Aidan Fisher, featuring a mix of classic and contemporary dishes, using only the best Autumnal ingredients.
October 27, 2022
7:00 pm - 11:00 pm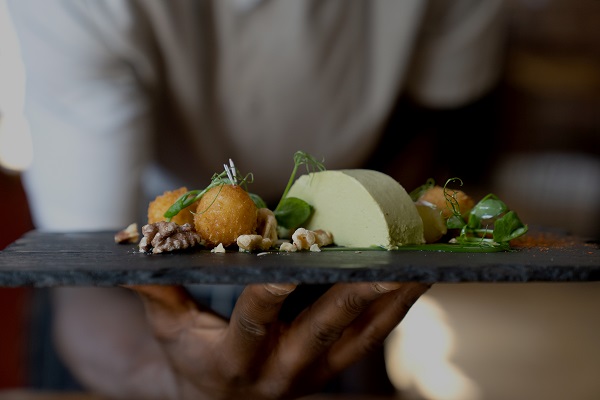 Join us in our Square Kitchen as we delve into an evening of French food and wine.
Working alongside award-winning wine journalist Ben Franks of Novel Wines, Head Chef Aidan Fisher has curated an exquisite nine-course tasting menu, which will be paired with seven French wines. Featuring only the best autumnal ingredients, this menu showcases a selection of both classic and contemporary dishes.
Throughout this evening, Ben will talk you through the pairing of each of these wines alongside the tasting menu – leaving you with a plethora of new knowledge.
Please note that as this is a tasting menu we are unfortunately unable to cater for any dietary requirements.
Arrival time at 7pm for a 7:25pm service commencement
£75 per person
Limited spaces available
~~~
Menu
Canapés du terrior
Domaine J.Laurens Blanquette de Limoux 'Le Moulin' NV, France
***
Aromatic game consommé, toasted nori
***
Celeriac brulée, fig, apple
Forgeron dubois sauvignon blanc, 2021
***
Lemon sole, watercress, caviar
Loudenotte chardonnay, 2020
***
Venison carpaccio, soused girolles
Cuvee dissenay pinot noir, 2019
***
Boudin of partridge, jambon cru, choucroute, quince
Reserve du fleur cotes di rhone, 2020
***
St Nectaire, gingerbread, date chutney
M. Chapoutier banyuls bila haut, 2018
***
Bramley apple mousse, blackberries, thyme ice cream
Chateau du juge Cadillac barsac, 2012
***
Petit fours
~~~
Book using the form below
You might also like