The Square Art Gallery
The Square Club Art Gallery is based in the heart of Clifton. We are proud to showcase the work of local artists on a regular, monthly basis. The Square has been graced by some fantastic art over the years and we are currently exhibiting paintings by Gaynor Leverett-Jaques and Rachael Johnson, and sculptures by Sophie Howard. Come in and see what we have on exhibition at any time.
Current Exhibition | Rachael Johnson & Gaynor Leverett-Jaques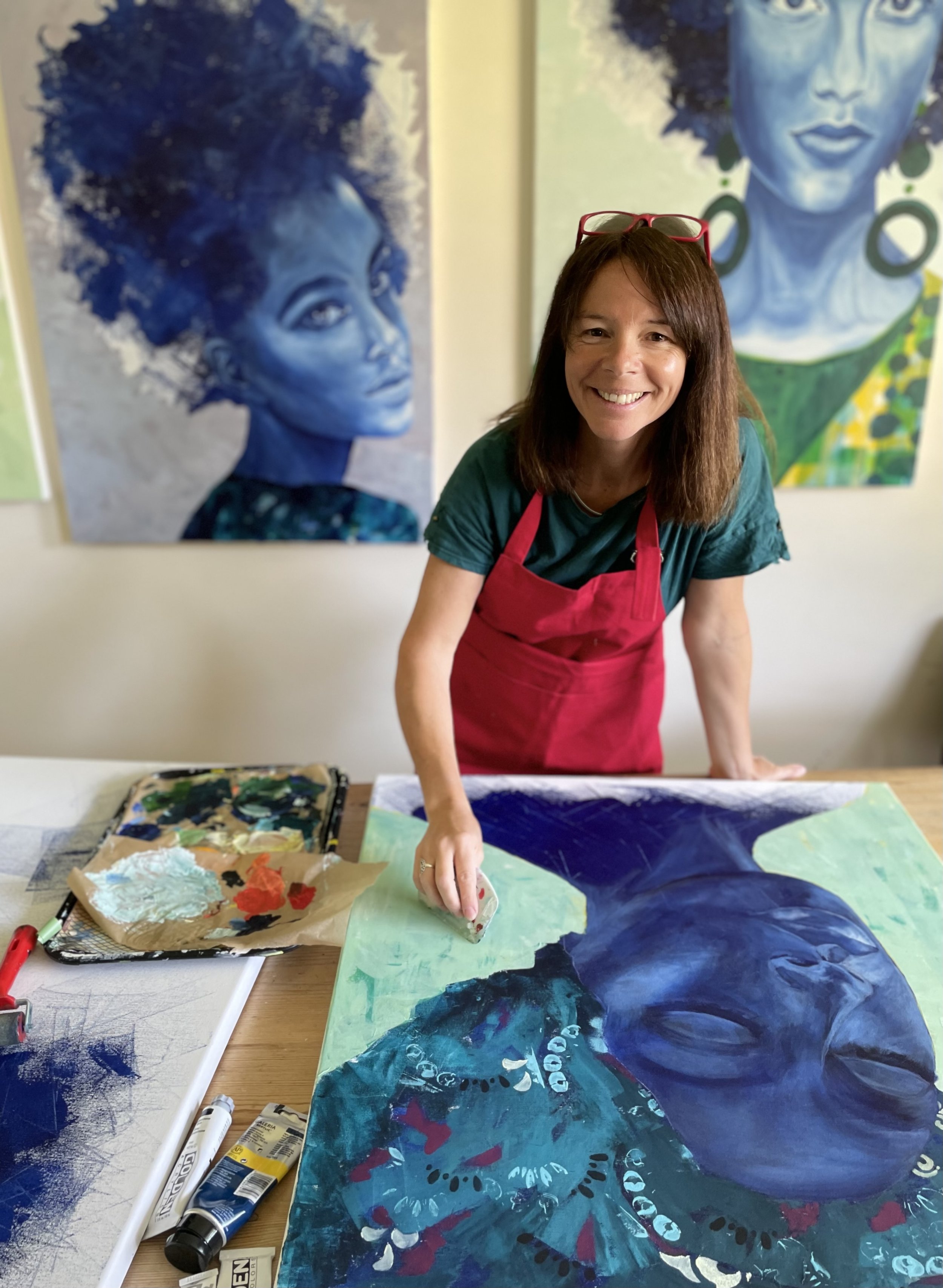 RACHAEL JOHNSON
The Square Club, Clifton, Bristol, August – October 2023
Rachael Johnson is a Bristol-based artist working in acrylic and mixed media. Her paintings explore colour, pattern and portraits. Rachael's exhibition at the club will be showing her new series 'I know who I am'. This portrait series began as a subtle exploration of colour, pattern and mark-making. Rachael describes each one as an adventure with no real destination in mind, she just uses the marks from the initial layer of blue to guide her compositions. The characters are unknown but emerge through their hair styles, accessories and clothing. Inspired by her time working and travelling abroad and the treasures collected during this time, the colours and patterns of Balinese masks, Indian batiks and Sumatran wedding saris often finding their way into her work. The versatility of acrylic paint enables new layers to be added easily as colour variations are mixed, added and quite often dramatically changed to bring the characters to life. With carefully chosen names and a direct gaze, Rachael likes the idea that her portraits create intrigue and wonder about who the subjects are, their thoughts and what could be holding their attention.
Rachael built her artistic knowledge through years of teaching, with over twenty years nurturing young people's efforts to explore their creativity, working alongside them developing their skills and their understanding of different mediums and techniques. Now having recently become a full time artist, she has time to focus on her collection of expressive portraits as she develops her interest in mixed media.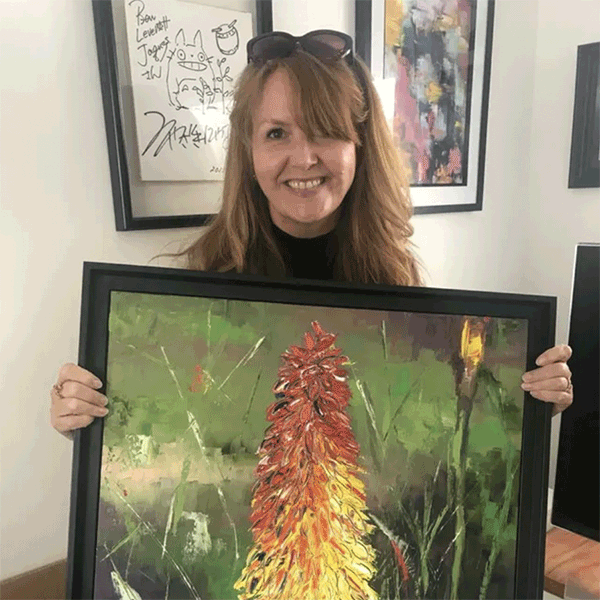 GAYNOR LEVERETT-JAQUES
Gaynor Leverett-Jaques is a West Country artist, whose paintings are a deep dive into colour, texture, playfulness and joy. As a re-emerging artist, Gaynor has embraced everything there is to offer in her art. Building on a long practice of working predominantly with oils, Gaynor has gone onto explore cold wax, acrylics and mixed media, sometimes painting florals, abstract, abstracted landscapes and skies. There are no limits.
The Wiltshire landscape greatly inspires Gaynor's pieces, with the vivid colours of nature, the stunning landscapes, and the vast skies. Predominantly working in oil paints, finding they offer a depth and luminosity that's hard to replicate, many of Gaynor's pieces are abstract, a style she finds truly freeing.
Gaynor's goal is to express experiences in colour, vibrancy, and movement, encouraging the viewer to feel the love in every piece, always simmering beneath whatever emotion she's expressing. During her creative process, Gaynor will build many layers, and then gradually will scrape these back to reveal what's beneath, creating a rich history within each piece.
For any enquires, please ask a member of the team or email sophie.yardley@thesquareclub.com
The Collection
Past Exhibition | Karen George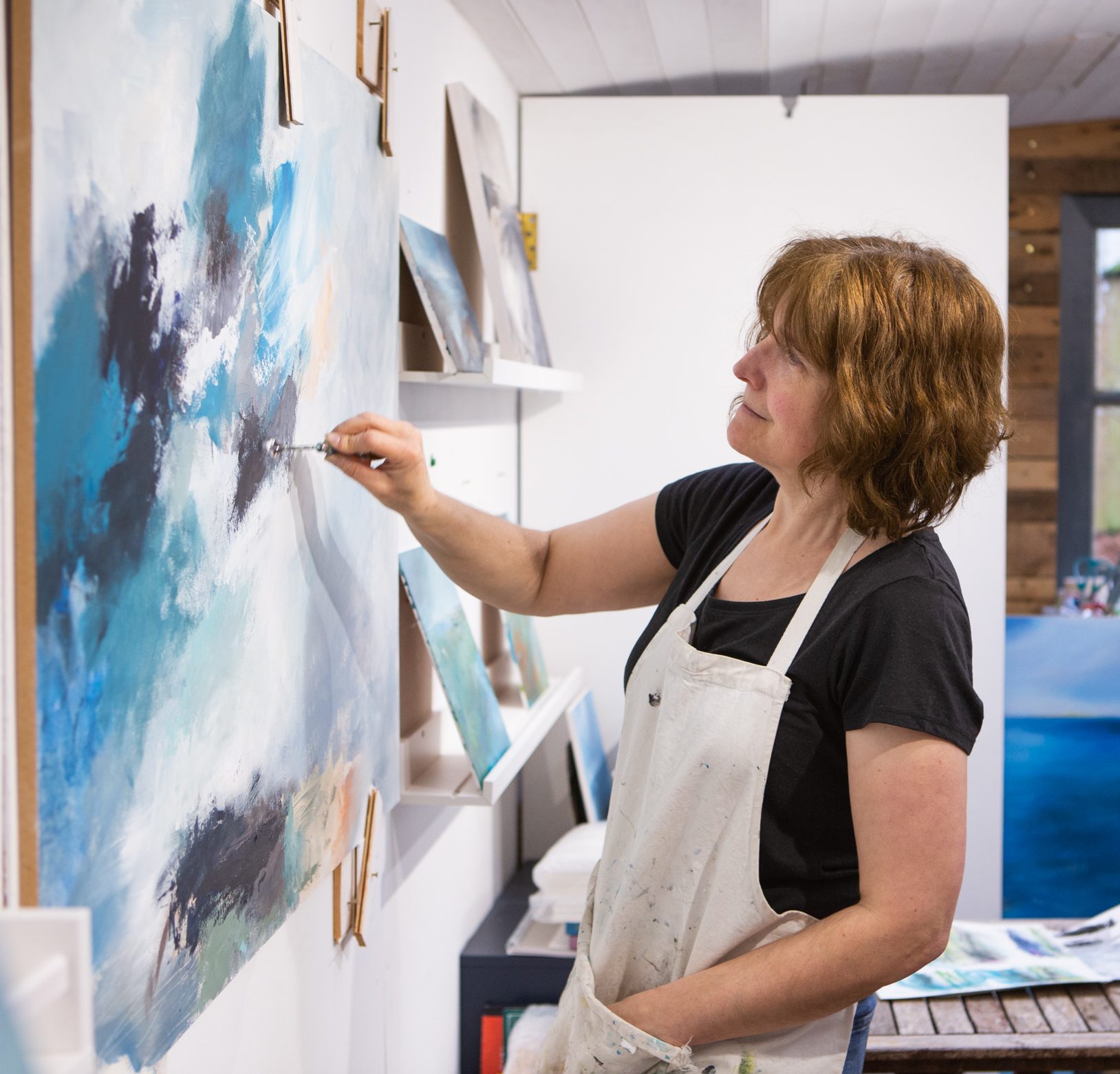 KAREN GEORGE
The Square Club, Clifton, Bristol,  May – July 23.
Karen is an artist based in High Littleton, near Bath where she works from her studio. She started painting in 2009 after almost 20 years working as a Landscape Architect having graduated from Sheffield University with a BSc Sp Hons in Landscape Design & Plant Science in 1988 followed by an MA in Landscape Design in 1990. Her work is an expression of her response to wonderful wild places that she feels both relaxed in and invigorated. The striking semi abstract landscapes in acrylic capture the energy and sense of space of those places she escapes to.
Working initially in a sketchbook Karen embeds a visual memory that she can recall when painting. In the studio she works on several pieces at a time which gives her the freedom to allow paintings to emerge. Working on board, paintings evolve over several sessions as Karen layers paint over a gesso base with brush and palette knife. Visual interest is created with glazing, mark making and scraping back to reveal previous layers. Over 10 years on Karen still loves painting and says there is nothing that matches the feeling when a painting 'speaks' to someone!
As well as regularly attending arts trails, open studio events and group shows in the South West, Karen's work at been exhibited with: the Society of Women Artists Open Exhibition, Bath Society of Artists Open Exhibition, Beside the Wave Gallery, London and the 'Art & Childhood Memories – The Meningitis Trust' Exhibition, Fairfax Gallery, London.
In 2013 Karen was instrumental in setting up the Cam Valley Arts Trail which supports local artists and promotes the arts locally within the Cam Valley; she continues to chair this group.
Workshops
I run one day workshops; the current options include 'Dive into collage', 'Creative sketchbooks', 'Sketchbooks to paintings' and 'Building the layers: exploring acrylics'. The workshops all share the common theme of sharing skills with and inspiring attendees to enjoy art at whatever level of ability they are. Details can be found on my website.
Artchatter Podcast
I have been co-hosting the Artchatter podcast with fellow artist Gaynor Leverett-Jaques since July 2021. It's a window into our working lives as artists where we share our experiences, the ups and downs of our artist lives, in a fortnightly episode. Head to Artchatter podcast for all the episodes.
'Wild Escapes' – an exhibition of original artwork by Karen George.
This series of work has been inspired by my time enjoying invigorating walks with big open skies in what I call my wild places. My 'go to' when I want to escape the frantic pace of everyday life and take time to recharge my batteries. A mix of landscapes – all with the common thread of giving space to breathe, to soak up the splendid solitude and to revel in nature's energy.
 www.karengeorgeart.co.uk
Instagram: @karengeorgeart
Facebook: @KarenGeorgeArt
For any enquires, please ask a member of the team or email sophie.yardley@thesquareclub.com
The Collection
Past Exhibition | Gaynor Leverett-Jaques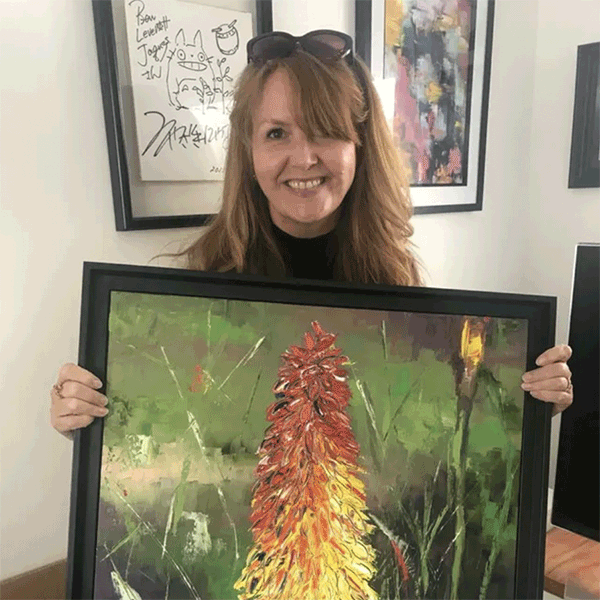 GAYNOR LEVERETT-JAQUES
The Square Club, Clifton, Bristol, November 22 – January 23.
Gaynor is an accomplished oil painter who is currently enjoying adding other painterly mediums into her creative practice at the preliminary stages.
Whilst nature may be the initial inspiration, it is the spur to large, bright initial layers. These then allow her to wake into her storytelling side which adds more precise details and hints to how you could travel around the painting.
She has had a mainly international collecting base from San Francisco to Sydney and is now enjoying having the chance to build local relationships within the UK including the Totterdown Art Trail in November "22. Her passion for giving back and community is essential part of her practice and Gaynor also mentors other artists who need a sounding board, either in their artwork or in promoting themselves.
For any enquires, please ask a member of the team or email sophie.yardley@thesquareclub.com
The Collection
Past Exhibition | Sarah Boden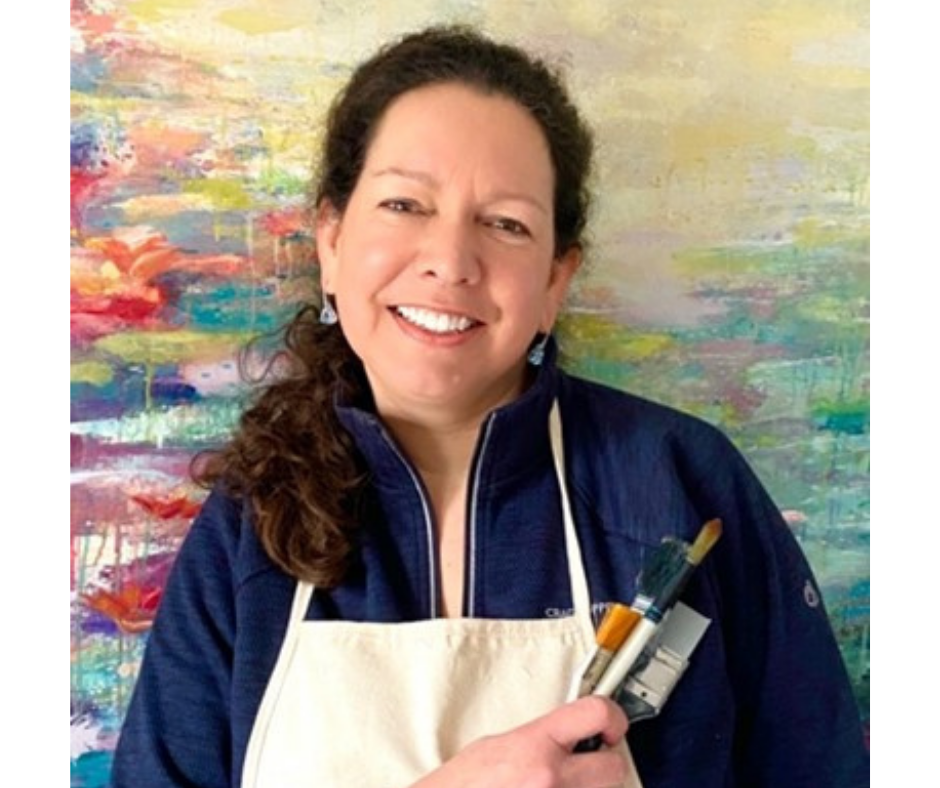 SARAH BODEN
The Square Club, Clifton, Bristol, February – April.
The Rainforest Series celebrates our natural environment and the protection of this valuable ecosystem. Through abstract landscapes and botanical paintings, Sarah aims to place the viewer within this environment, to capture the sense of place and feeling whilst engaging with the message behind the work. Rather than replicating the landscape her work relies on the metaphorical, patterning, and semi-abstract, each a visual poem informed by sketches, watercolours and memories.
As architect turned artist, Sarah has lived and travelled in Asia extensively, only returning to Bristol in 2017, and this experience has influenced her art through colour, pattern, and subject. Through workshops, her website and by working with local organisations she hopes to encourage confidence and belief through creativity.
Sarah's work has been exhibited in Switzerland, Malaysia and Thailand and we are delighted that her first UK solo show will be at the Square Club, Bristol. All the work is for sale and the exhibition is open to the public from 3rd February – 26th April 2023.
Website: www.sarahbodenart.com
Facebook: @sarahbodenart
Instagram: @sarahbodenart
Twitter: @sarahbodenart
For any enquires, please ask a member of the team or email sophie.yardley@thesquareclub.com
The Collection
Past Exhibition | Emma Catherine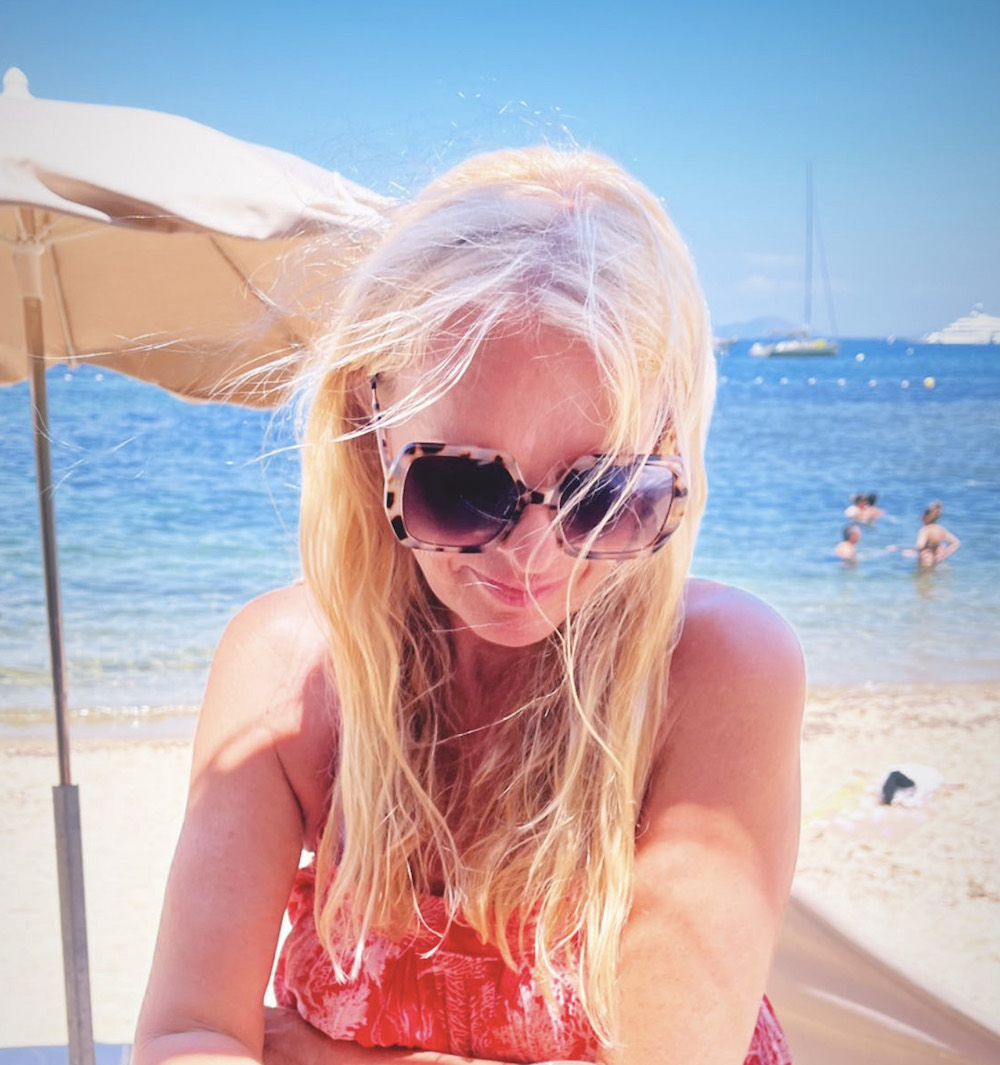 EMMA CATHERINE
The Square Club, Clifton, Bristol, August – November.
Emma Catherine is a Bristol based, contemporary artist, whose work focuses on the tranquility and magic of the moon, earth and sea using mixed media, gold leaf and layering to accentuate the spectacular vastness of undiscovered energy that lies beneath the surface.
Emma grew up in the countryside with a deep love and fascination for nature and art. After studying Fine Art and working as a designer, Emma moved to Provence in France with her family.
Inspired by the Mediterranean sea, azure skies, glittering dappled cobbled streets, exotic hummingbird moths, warm golden aromas of mimosa and paint peeled shutters, Emma began her large abstract work.
For any enquires, please ask a member of the team or email sophie.yardley@thesquareclub.com
The Collection
Past Exhibition | Polly Luce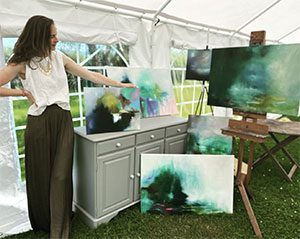 POLLY LUCE
The Square Club, Clifton, Bristol, April – July.
Polly Luce is an abstract expressive painter based in Bristol.
Passionate about colour, light, texture and mark-making, Polly draws inspiration predominantly from landscapes and the elements. Using a variety of mixed media, Polly's paintings seek to capture a fleeting moment or emotion while celebrating the joy of gestural mark-making. With a largely intuitive approach, the paintings unfold and develop almost of their own accord.
For any enquires, please ask a member of the team or email sophie.yardley@thesquareclub.com
The Collection
Past Exhibition | Jim Starr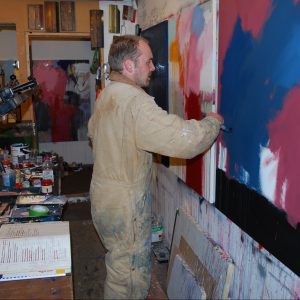 'AVIFAUNA' by Jim Starr
The Coningsby Gallery, Bloomsbury, London 18th – 31st October 2020
The Square Club, Clifton, Bristol, November – February 2021/2022
Powered by Jim Starr's lifelong passion for birds, 'Avifauna' is a new collection of paintings and prints.
Each bird portrait, up close and personal, is inspired by Jim's extensive experience of observing his subjects in the wild. He has spent a lifetime travelling the world in search of his feathered friends and the new show features British, European, African and American subjects.
"This collection of paintings is attempting to elevate and transform birds into Iconic subjects. With these new paintings I am experimenting with scale, composition, cropping and a more painterly technique to produce powerful and contemporary portraits of birds".
It is his background and artistic journey that gives the work its uniquely fresh appeal. He has pioneered mixing classic brushwork with contemporary and street influences to produce large scale impressive studies. During his 25yr career, Jim has always painted birds but he's also successfully worked in pop and urban art, exhibiting alongside Banksy, Damian Hirst and Basquiat – to name a few. This pedigree gives the work a unique and distinctive flourish.
"I have thousands of ideas for paintings – there are 10,700 species of bird, after all – and I want to bring my pop and urban art inspirations to depict the birds as powerful, contemporary images."
An urban artist enduringly drawn back to the natural world, Jim has decades of experience on which to experiment. His obsessions for birds, drawing and painting started early.
"I joined the RSPB and junior bird clubs at the age of seven. I devoured every guidebook and reference book I could get my hands on from Audubon and Peterson to Tunnicliffe and Thorburn. I also spent a lot of time searching for birds in the field, excited about the next discovery, enthralled by their variety and beauty but also frustrated with their ability to just take off and vanish into the closest thicket or just over the horizon"
As a child on the Somerset levels, he'd search for Marsh Harriers. Family holidays took him to Norfolk for avocets, Scotland for ospreys and Cornwall for migrants and rarities. These early adventures in bird observation and painting led to later roles as Expedition Artist in the US, Svalbard, Lesotho and Iceland. He has also sketched and studied birds on trips to the Pakistan Himalayas, the Gambia, Tanzania, Norway, The Canaries and his home county of Devon. Avifauna is his latest step in a lifetime's exploration.
"I continue to seek a deeper connection with nature and share my interest to foster a better appreciation of the birds around us"
Jim Starr studied at the Chelsea College of Art and Kingston University. He has exhibited In London, Paris, New York, Chicago, Palm Beach, Venice, Rome, Singapore, Tokyo and most recently at the Chengdu Museum, China with BVLGARI. Having been based in London and Bristol, he now lives and works in a remote corner of Exmoor National Park, closer to his birds.
For any enquires, please ask a member of the team or email sophie.yardley@thesquareclub.com
The Collection
Past Exhibition | Sophie Howard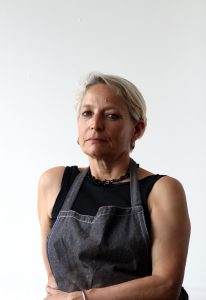 Sophie Howard is a Bristol artist who makes evocative sculpture in ceramic, bronze resin and bronze. Sophie expresses herself through exploring the themes of motion and stillness in the body. A selection of  Sophie's sculptures are on exhibition here at the club and are available for purchase.
The Collection
May 2021 – November 2021 | Molly Hawkins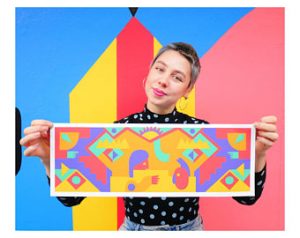 Molly Hawkins is widely recognised for her large-scale vibrant Street Art pieces, found across buildings worldwide. Using geometric shapes and vivacious colour
palettes, Molly brings joyful art to public spaces. Her artwork, inspired by narrative and form, transforms locations and ignites positive feelings.
The Collection
January 2020 – May 2021 | Lee Ellis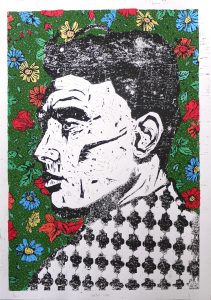 Lee Ellis graduated from the University of the West of England, where he studied Graphic Design in 2006. Lee currently works and lives in Bristol. Despite working in the Graphic Design industry he found his artistic expression grew into portrait painting, developing, over the years, a personal and distinctive style. His insatiable desire to create brings him to embrace different artistic mediums, from printmaking to drawing and painting. With an expressive and bold style, immediately striking with his unusual juxtaposition of bright colours and dark subjects, Lee's paintings in particular convey an emotional and visceral angst within his figures. From humans to animals, he never fails to depict the inner turmoil of his characters. He achieves this effect by employing heavy, raw and expressive brushstrokes that make his painting style poignant and immediately affecting.
The Collection
October 2020 – May 2021 | Rachel Ahmed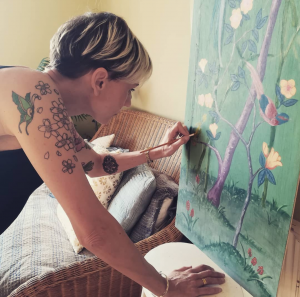 This exhibition is based on the poem 'The Conference of Birds' by Farid ud-Din Attar, 11th Century Persian Writer and Philosopher
Rachel Ahmad is an artist and illustrator hailing from New Zealand by way of Tonga, but now based in London. She has collaborated with Hank Rossi, a Bristol-based creative, on the production of these paintings to create a vibrant reminder of the way art can investigate identity and purpose. By isolating each character on an emblematic background she has rooted the work's individualism in a landscape of cultural symbolism reflective of the Sufi tradition of the poem's author.
THE POEM                                                                                                                         
The poem itself is an allegorical work describing a quest to understand the nature of reality, consciousness and learning. The birds gather to decide upon a leader and the Hoopoe suggests they seek the wisdom of the mythical Symurgh. They set off on a journey through seven realms, encountering myriad challenges, with many perishing or wilting during the trip. Upon reaching a final destination those who remain are confronted with the fact that the answer they seek lies not in some other source of wisdom but in themselves.                                                                             
Many artists and thinkers have been inspired by this story, and it is a pertinent reminder that life's challenges bring opportunities for learning but the contemplation and review of one's values is a never-ending endeavour.
The Collection
November 2019 – January 2020 | Greg Harris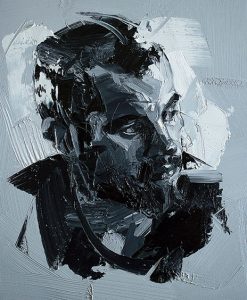 Greg Harris is a portrait, figurative and landscape painter currently residing in Bristol. He exhibits across the country and shows through galleries in London and Sevenoaks. He regularly shows with The Other Art Fair in London and Bristol, and he's been pre-selected twice for the BP Portrait Award and once for the SELF prize. Greg has also appeared on SkyArts Landscape Artist of the Year as well as BBC Radio Bristol. Aside from exhibiting his work, Greg tutors workshops and performs paintings demonstrations all over the UK. He also accepts commissions from individuals and organisations alike. In his paintings, he wants you to reconnect with the familiar by bringing together both a literal and non-literal interpretation of the people and environment around you. His source material comes from photos he takes at sittings or places he has travelled to.
The Collection
June 2019 – November 2019 | Jessie Woodward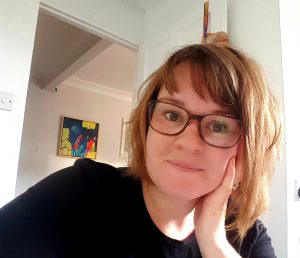 Jessie Woodward's Art is brilliantly fun and unusual. Her experimentation of luminous paint and glitter brings youth and Vibrancy to our Square Club. Her artwork provokes a visual energetic joy and pleasure, the response to her paintings is where her fascination with abstract expressionism roots from. The paintings don't even have a title as Jessie believes giving them names would create a preconception and distort the onlooker's original impression of a piece. The dynamic range of materials, tools and techniques make these paintings so unique. Such as scratching into the paint, drawing with charcoal, graphite, layers of paint, more mark making, more paint, more fluorescent paint, more glitter etc, the list is endless. Come to our Square Club, July 18th from 5 pm to chat to her and view the beautiful pieces scattered around our club with some complimentary prosecco and nibbles. They will be for Sale until the end of July.
The Collection
June 2019 – July 2019 | Georgie Webster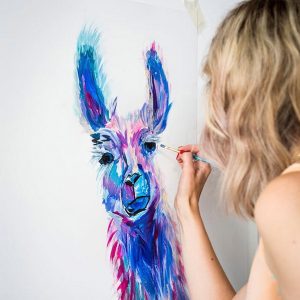 The Acrylic painting Queen! Georgie's Art collection is all very distinctive, experimenting with her colour palette.  The paintings range from animals to a series of male body-oriented pieces, using an alternative colour hue. Georgie has previously showcased her works in several Bristol locations including Cafe Jackalope, Movement Boutique and Steak of the Art. In addition to her pieces being shown in our Square Club, Georgie also has enamel mugs and small prints available to buy. A multi-talented artist, Georgie takes commissions, be it a special personalised gift or a mural – she does it all.
The Collection
January 2019 – April 2019 | Angie Kenber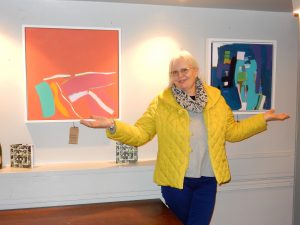 Angie has exhibited her work across the UK, featuring in galleries in London, Cornwall and the Cotswolds. Angie was represented by Innocent Fine Art until its closure and now displays her work in the Flux Gallery on Park Street, the RWA shop and Iroka Design outside St Ives.  Her creative ethic is refreshing, every painting is driven by a 'feel good' mentality. This is expressed in her bold colour palette and playful use of combinations. Angie has revealed that her work is inspired by her personal life experiences, capturing her excitement and joy in life, yet grounded in contemplative spirituality. Most describe her paintings as 'joyful', 'uplifting' and 'inspiring'.