The Square Art Gallery
The Square Club Art Gallery is based in the heart of Clifton. We are proud to showcase the work of local artists on a regular, monthly basis. The Square has been graced by some fantastic art over the years and we are currently exhibiting paintings by Georgie Webster,  come in and see what she has to display at any time.
Current Artist | Jessie Woodward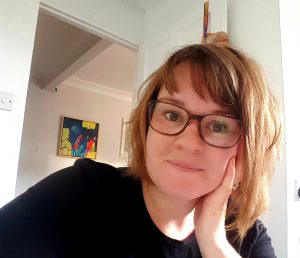 Jessie Woodward's Art is brilliantly fun and unusual. Her experimentation of luminous paint and glitter brings youth and Vibrancy to our Square Club. Her artwork provokes a visual energetic joy and pleasure, the response to her paintings is where her fascination with abstract expressionism roots from. The paintings don't even have a title as Jessie believes giving them names would create a preconception and distort the onlooker's original impression of a piece. The dynamic range of materials, tools and techniques make these paintings so unique. Such as scratching into the paint, drawing with charcoal, graphite, layers of paint, more mark making, more paint, more fluorescent paint, more glitter etc, the list is endless. Come to our Square Club, July 18th from 5 pm to chat to her and view the beautiful pieces scattered around our club with some complimentary prosecco and nibbles. They will be for Sale until the end of July.
The Collection
June & July Artist | Georgie Webster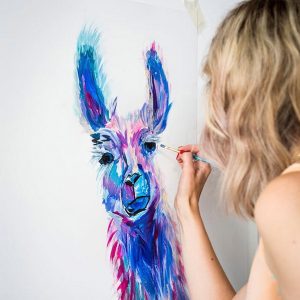 The Acrylic painting Queen! Georgie's Art collection is all very distinctive, experimenting with her colour palette.  The paintings range from animals to a series of male body-oriented pieces, using an alternative colour hue. Georgie has previously showcased her works in several Bristol locations including Cafe Jackalope, Movement Boutique and Steak of the Art. In addition to her pieces being shown in our Square Club, Georgie also has enamel mugs and small prints available to buy. A multi-talented artist, Georgie takes commissions, be it a special personalised gift or a mural – she does it all.
The Collection
January – April Artist Profile | Angie Kenber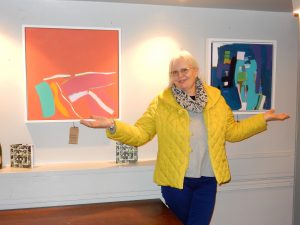 Angie has exhibited her work across the UK, featuring in galleries in London, Cornwall and the Cotswolds. Angie was represented by Innocent Fine Art until its closure and now displays her work in the Flux Gallery on Park Street, the RWA shop and Iroka Design outside St Ives.  Her creative ethic is refreshing, every painting is driven by a 'feel good' mentality. This is expressed in her bold colour palette and playful use of combinations. Angie has revealed that her work is inspired by her personal life experiences, capturing her excitement and joy in life, yet grounded in contemplative spirituality. Most describe her paintings as 'joyful', 'uplifting' and 'inspiring'.