The Square Art Gallery
The Square Club Art Gallery is based in the heart of Clifton. We are proud to showcase the work of local artists on a regular, monthly basis. The Square has been graced by some fantastic art over the years and we are currently exhibiting paintings by Lee Ellis,  come in and see what she has to display at any time.
Current Exhibition | Gaynor Leverett-Jaques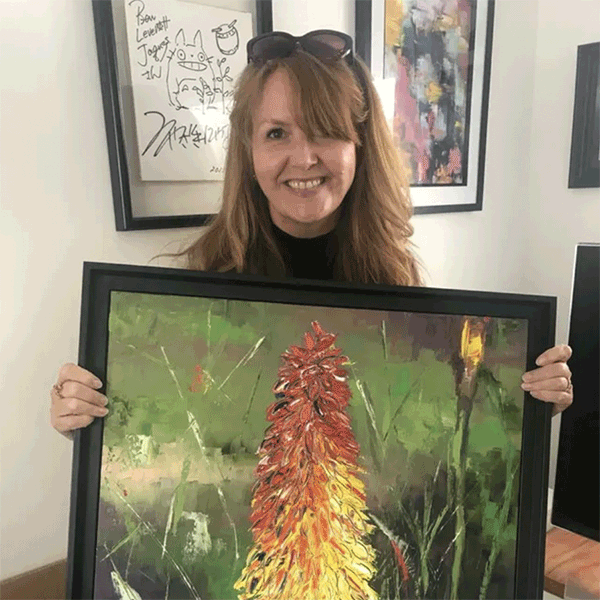 GAYNOR LEVERETT-JAQUES
The Square Club, Clifton, Bristol, November 22 – January 23.
Gaynor is an accomplished oil painter who is currently enjoying adding other painterly mediums into her creative practice at the preliminary stages.
Whilst nature may be the initial inspiration, it is the spur to large, bright initial layers. These then allow her to wake into her storytelling side which adds more precise details and hints to how you could travel around the painting.
She has had a mainly international collecting base from San Francisco to Sydney and is now enjoying having the chance to build local relationships within the UK including the Totterdown Art Trail in November "22.
Gaynor is also the co-host of the ArtChatter Podcast – Artchatter can be found on Apple podcasts, Spotify or wherever you listen to your favourite podcasts
Her passion for giving b.ack and community is essential part of her practice and Gaynor also mentors other artists who need a sounding board, either in their artwork or in promoting themselves.
You can find out more about Gaynor, including her art processes on her website www.gaynorljart.com/
Instagram | Facebook | Twitter @gaynorljart
For any enquires, please ask a member of the team or email sophie.yardley@thesquareclub.com
The Collection
Current Exhibition | Emma Catherine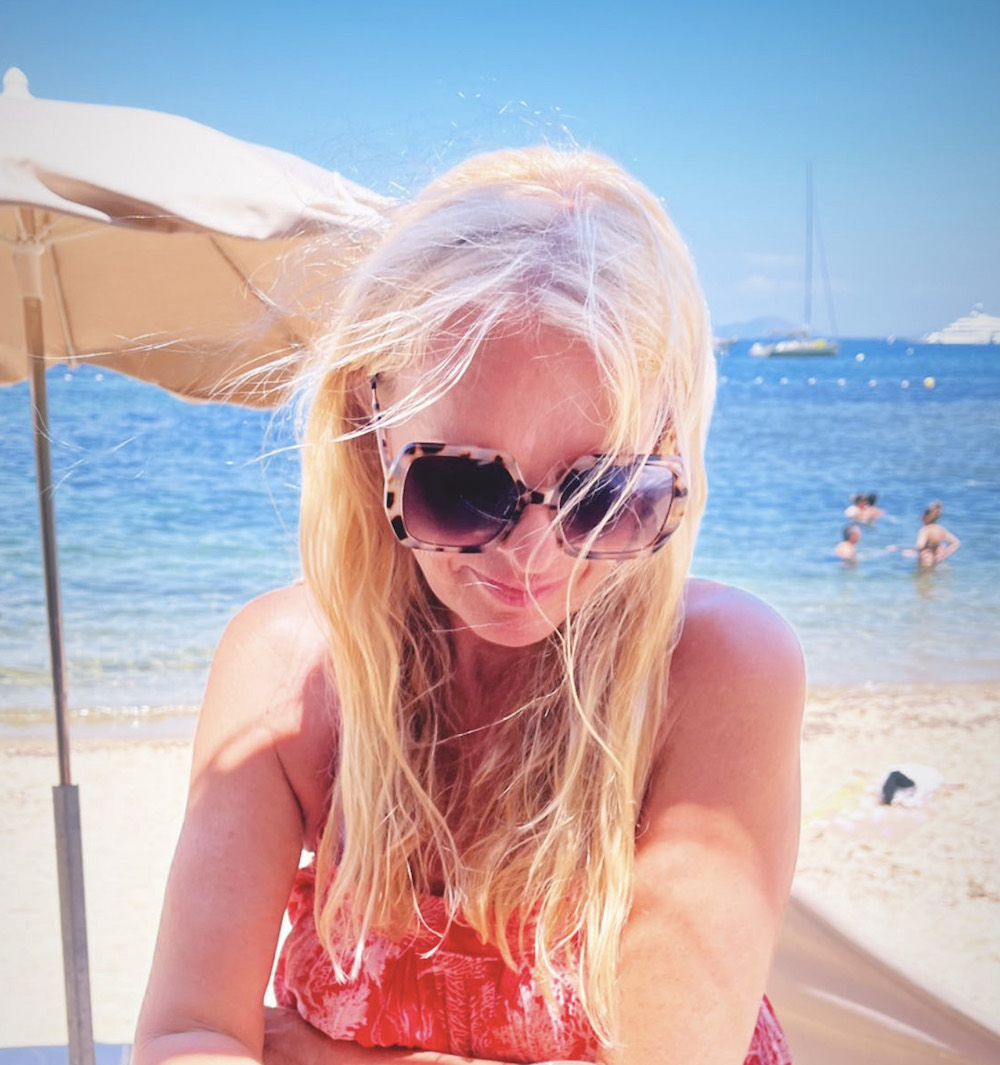 EMMA CATHERINE
The Square Club, Clifton, Bristol, August – November.
Emma Catherine is a Bristol based, contemporary artist, whose work focuses on the tranquility and magic of the moon, earth and sea using mixed media, gold leaf and layering to accentuate the spectacular vastness of undiscovered energy that lies beneath the surface.
Emma grew up in the countryside with a deep love and fascination for nature and art. After studying Fine Art and working as a designer, Emma moved to Provence in France with her family.
Inspired by the Mediterranean sea, azure skies, glittering dappled cobbled streets, exotic hummingbird moths, warm golden aromas of mimosa and paint peeled shutters, Emma began her large abstract work.
For any enquires, please ask a member of the team or email sophie.yardley@thesquareclub.com
The Collection
Past Exhibition | Polly Luce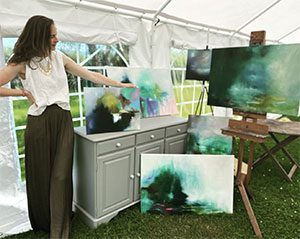 POLLY LUCE
The Square Club, Clifton, Bristol, April – July.
Polly Luce is an abstract expressive painter based in Bristol.
Passionate about colour, light, texture and mark-making, Polly draws inspiration predominantly from landscapes and the elements. Using a variety of mixed media, Polly's paintings seek to capture a fleeting moment or emotion while celebrating the joy of gestural mark-making. With a largely intuitive approach, the paintings unfold and develop almost of their own accord.
For any enquires, please ask a member of the team or email sophie.yardley@thesquareclub.com
The Collection
Past Exhibition | Jim Starr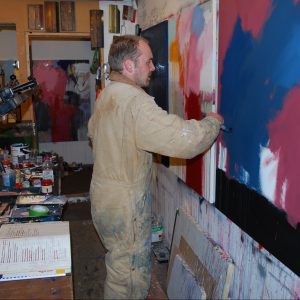 'AVIFAUNA' by Jim Starr
The Coningsby Gallery, Bloomsbury, London 18th – 31st October 2020
The Square Club, Clifton, Bristol, November – February 2021/2022
Powered by Jim Starr's lifelong passion for birds, 'Avifauna' is a new collection of paintings and prints.
Each bird portrait, up close and personal, is inspired by Jim's extensive experience of observing his subjects in the wild. He has spent a lifetime travelling the world in search of his feathered friends and the new show features British, European, African and American subjects.
"This collection of paintings is attempting to elevate and transform birds into Iconic subjects. With these new paintings I am experimenting with scale, composition, cropping and a more painterly technique to produce powerful and contemporary portraits of birds".
It is his background and artistic journey that gives the work its uniquely fresh appeal. He has pioneered mixing classic brushwork with contemporary and street influences to produce large scale impressive studies. During his 25yr career, Jim has always painted birds but he's also successfully worked in pop and urban art, exhibiting alongside Banksy, Damian Hirst and Basquiat – to name a few. This pedigree gives the work a unique and distinctive flourish.
"I have thousands of ideas for paintings – there are 10,700 species of bird, after all – and I want to bring my pop and urban art inspirations to depict the birds as powerful, contemporary images."
An urban artist enduringly drawn back to the natural world, Jim has decades of experience on which to experiment. His obsessions for birds, drawing and painting started early.
"I joined the RSPB and junior bird clubs at the age of seven. I devoured every guidebook and reference book I could get my hands on from Audubon and Peterson to Tunnicliffe and Thorburn. I also spent a lot of time searching for birds in the field, excited about the next discovery, enthralled by their variety and beauty but also frustrated with their ability to just take off and vanish into the closest thicket or just over the horizon"
As a child on the Somerset levels, he'd search for Marsh Harriers. Family holidays took him to Norfolk for avocets, Scotland for ospreys and Cornwall for migrants and rarities. These early adventures in bird observation and painting led to later roles as Expedition Artist in the US, Svalbard, Lesotho and Iceland. He has also sketched and studied birds on trips to the Pakistan Himalayas, the Gambia, Tanzania, Norway, The Canaries and his home county of Devon. Avifauna is his latest step in a lifetime's exploration.
"I continue to seek a deeper connection with nature and share my interest to foster a better appreciation of the birds around us"
Jim Starr studied at the Chelsea College of Art and Kingston University. He has exhibited In London, Paris, New York, Chicago, Palm Beach, Venice, Rome, Singapore, Tokyo and most recently at the Chengdu Museum, China with BVLGARI. Having been based in London and Bristol, he now lives and works in a remote corner of Exmoor National Park, closer to his birds.
For any enquires, please ask a member of the team or email sophie.yardley@thesquareclub.com
The Collection
Current Exhibition | Sophie Howard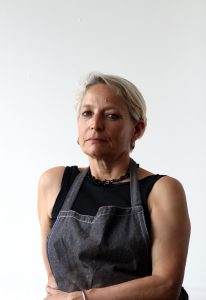 Sophie Howard is a Bristol artist who makes evocative sculpture in ceramic, bronze resin and bronze. Sophie expresses herself through exploring the themes of motion and stillness in the body. A selection of  Sophie's sculptures are on exhibition here at the club and are available for purchase.
The Collection
May 2021 – November 2021 | Molly Hawkins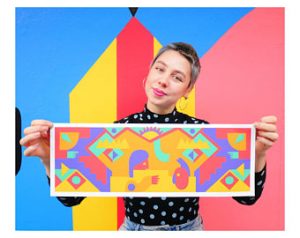 Molly Hawkins is widely recognised for her large-scale vibrant Street Art pieces, found across buildings worldwide. Using geometric shapes and vivacious colour
palettes, Molly brings joyful art to public spaces. Her artwork, inspired by narrative and form, transforms locations and ignites positive feelings.
The Collection
January 2020 – November 2021 | Lee Ellis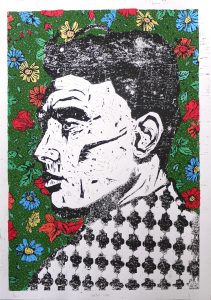 Lee Ellis graduated from the University of the West of England, where he studied Graphic Design in 2006. Lee currently works and lives in Bristol. Despite working in the Graphic Design industry he found his artistic expression grew into portrait painting, developing, over the years, a personal and distinctive style. His insatiable desire to create brings him to embrace different artistic mediums, from printmaking to drawing and painting. With an expressive and bold style, immediately striking with his unusual juxtaposition of bright colours and dark subjects, Lee's paintings in particular convey an emotional and visceral angst within his figures. From humans to animals, he never fails to depict the inner turmoil of his characters. He achieves this effect by employing heavy, raw and expressive brushstrokes that make his painting style poignant and immediately affecting.
The Collection
October 2020 – May 2021 | Rachel Ahmed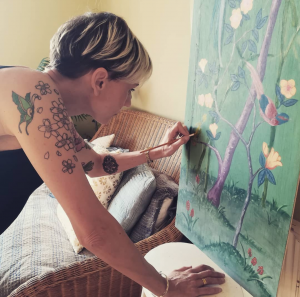 This exhibition is based on the poem 'The Conference of Birds' by Farid ud-Din Attar, 11th Century Persian Writer and Philosopher
Rachel Ahmad is an artist and illustrator hailing from New Zealand by way of Tonga, but now based in London. She has collaborated with Hank Rossi, a Bristol-based creative, on the production of these paintings to create a vibrant reminder of the way art can investigate identity and purpose. By isolating each character on an emblematic background she has rooted the work's individualism in a landscape of cultural symbolism reflective of the Sufi tradition of the poem's author.
THE POEM                                                                                                                         
The poem itself is an allegorical work describing a quest to understand the nature of reality, consciousness and learning. The birds gather to decide upon a leader and the Hoopoe suggests they seek the wisdom of the mythical Symurgh. They set off on a journey through seven realms, encountering myriad challenges, with many perishing or wilting during the trip. Upon reaching a final destination those who remain are confronted with the fact that the answer they seek lies not in some other source of wisdom but in themselves.                                                                             
Many artists and thinkers have been inspired by this story, and it is a pertinent reminder that life's challenges bring opportunities for learning but the contemplation and review of one's values is a never-ending endeavour.
The Collection
November 2019 – January 2020 | Greg Harris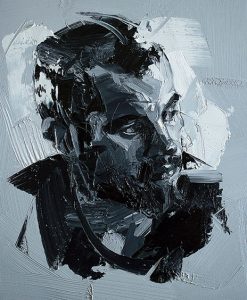 Greg Harris is a portrait, figurative and landscape painter currently residing in Bristol. He exhibits across the country and shows through galleries in London and Sevenoaks. He regularly shows with The Other Art Fair in London and Bristol, and he's been pre-selected twice for the BP Portrait Award and once for the SELF prize. Greg has also appeared on SkyArts Landscape Artist of the Year as well as BBC Radio Bristol. Aside from exhibiting his work, Greg tutors workshops and performs paintings demonstrations all over the UK. He also accepts commissions from individuals and organisations alike. In his paintings, he wants you to reconnect with the familiar by bringing together both a literal and non-literal interpretation of the people and environment around you. His source material comes from photos he takes at sittings or places he has travelled to.
The Collection
June 2019 – November 2019 | Jessie Woodward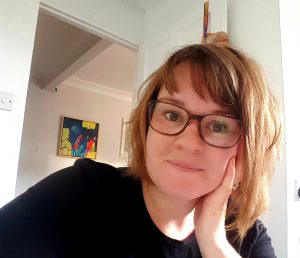 Jessie Woodward's Art is brilliantly fun and unusual. Her experimentation of luminous paint and glitter brings youth and Vibrancy to our Square Club. Her artwork provokes a visual energetic joy and pleasure, the response to her paintings is where her fascination with abstract expressionism roots from. The paintings don't even have a title as Jessie believes giving them names would create a preconception and distort the onlooker's original impression of a piece. The dynamic range of materials, tools and techniques make these paintings so unique. Such as scratching into the paint, drawing with charcoal, graphite, layers of paint, more mark making, more paint, more fluorescent paint, more glitter etc, the list is endless. Come to our Square Club, July 18th from 5 pm to chat to her and view the beautiful pieces scattered around our club with some complimentary prosecco and nibbles. They will be for Sale until the end of July.
The Collection
June 2019 – July 2019 | Georgie Webster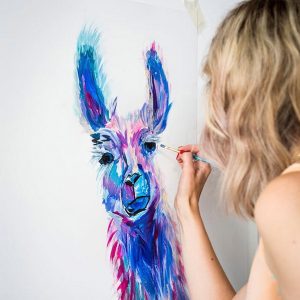 The Acrylic painting Queen! Georgie's Art collection is all very distinctive, experimenting with her colour palette.  The paintings range from animals to a series of male body-oriented pieces, using an alternative colour hue. Georgie has previously showcased her works in several Bristol locations including Cafe Jackalope, Movement Boutique and Steak of the Art. In addition to her pieces being shown in our Square Club, Georgie also has enamel mugs and small prints available to buy. A multi-talented artist, Georgie takes commissions, be it a special personalised gift or a mural – she does it all.
The Collection
January 2019 – April 2019 | Angie Kenber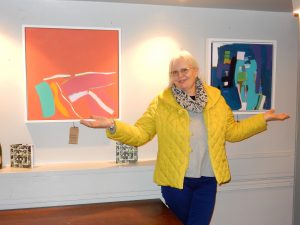 Angie has exhibited her work across the UK, featuring in galleries in London, Cornwall and the Cotswolds. Angie was represented by Innocent Fine Art until its closure and now displays her work in the Flux Gallery on Park Street, the RWA shop and Iroka Design outside St Ives.  Her creative ethic is refreshing, every painting is driven by a 'feel good' mentality. This is expressed in her bold colour palette and playful use of combinations. Angie has revealed that her work is inspired by her personal life experiences, capturing her excitement and joy in life, yet grounded in contemplative spirituality. Most describe her paintings as 'joyful', 'uplifting' and 'inspiring'.