Unless you've been hiding in a rabbit hole since the 1970s then we're pretty sure you know of Glastonbury Festival.
It is the mothership of all festivals. From the first ever event that saw festival goers gaining entry for £1 (with milk included) to the £210 people pay for tickets today – there is no other experience quite like it that takes up five days of your life and spits you out as such a muddy, happy mess.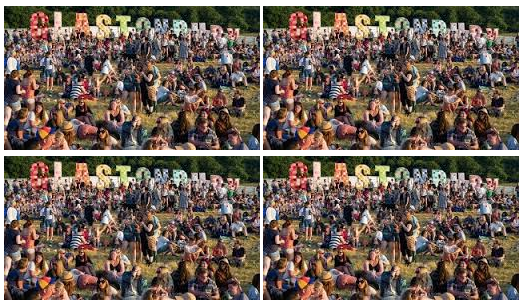 Below we have compiled some lesser known facts about this monumental event in the festival calendar. Whether or not it's your thing we hope this makes for some good reading before everything kicks off tomorrow. If you're packing and getting in the mood, or trying to ignore people's Social Media posts about how they are packing and getting in the mood – this blog post offers a different look at the only place it is ok to wear a sun-hat and wellington boots with a cider in one hand and a child in the other.
Below are some lesser known facts we've compiled about the big G-F. We will not be there and that is why there may be a tinge of bitterness in our tone. Please forgive us for that.
1) THE BEGINNING: The idea to start the festival was that of Michael Eavis, who owns Worthy Farm in Pilton, and was inspired by a festival he attended in 1969 where Led Zeppelin performed in Bath.
2) LOOS: everyone's favourite part of going to a festival. This year 5,000 'long-drop' toilets were expanded at 31 locations on the festival site. Compost from one festival's waste can be used to fertilise Worthy Farm for two years.
3) ANOTHER LOO FACT?: In 2007, 2,485 miles of toilet roll were on site for the opening day. That's as far as London is from Baghdad.
4) NAMES: Forget the 'big names' that are playing, The town of Glastonbury was called Glestingaburg in the 7th and 8th centuries. Interesting?
5) MORBID FASCINATION: One year a murder trial in London was put on hold after one of the jurors was allowed time out in order to attend the festival. That's dedication.
6) ANARCHY: Talking of criminal justice – Glastonbury was previously a lawless place. Police officers were not present on site until 1990.
7) NO-SHOWS: The first ever festival in 1970 was headlined by Tyrannosaurus Rex who were stepping in for the Kinks who failed to show up.
8) HOMAGE: In 2009 as the death of Michael Jackson broke, the entire festival paid homage to the King of Pop. Lily Allen performed wearing a white glove.
9) LOST IN TRANSIT: On the way to play at the Pyramid stage in 2005 The Killers guitarist Dave Keuning was mistakenly left at a motorway service station and almost missed their set.
10) FINAL LEGS: Michael Eavis has said that he plans to bow out of running Glastonbury Festival in 2020. Who will be the next in line we wonder?
Can't make it out of the city for Glasto? Never fear, we have plenty more events in Bristol to get excited about (though admittedly on a smaller scale!)