Guest Blogger: Karen Edwards
As the second instalment of our new Guest Blogger series we invited ceramicist Karen Edwards who is currently exhibiting outside on our Square Terrace – to tell us a little more about her inspiration and practice. Karen comments:
I've been trying to analyse what drives me to make my ceramics. My earliest memories of my father are of him always making things around the house – he seemed to be able to make or mend anything, and I loved to 'help'.  I was very much a tomboy, spending hours outside in the garden, and had my own small patch to look after.  Although I was constantly drawing, painting, sewing, knitting and generally making things, I was told at school that there was no financial future in art, so followed my other passion, languages, as a career.  I loved to see studio pottery whenever we went on family holidays, so when I got the chance to attend evening classes I seized it, and have carried on ever since – totally smitten by the clay bug.  At first I only wanted to use the potter's wheel, fascinated by the magic of  creating volume and shape from a lump of mud. I made and sold domestic tableware on a very small scale, going to evening classes as the commitments of having two small children allowed.  I have very little formal training, but was lucky enough to attend a part-time course at Bridgwater College in 1999 / 2000.  A compulsory study project there introduced me to both hand building and to different types of clay – a real 'lightbulb' experience which has formed the basis of my work ever since.
Living in North Somerset since 1988, I'm very much influenced by the beauty and variety of landscape forms and textures, as well as the wonderful shapes of plants and seeds.  Making work for gardens just seemed a very natural development. I'm not aiming to express any deep or meaningful thoughts or emotions, simply creating sculptures or planters that give me and other people enjoyment is the driving force behind what I do, and of course the sheer love of process and material.  Clay is such an amazing thing, able to record tiny details or form huge shapes.  There are so many potters and sculptors, but clay gives everyone an individual voice, as any gallery or ceramics show will evidence.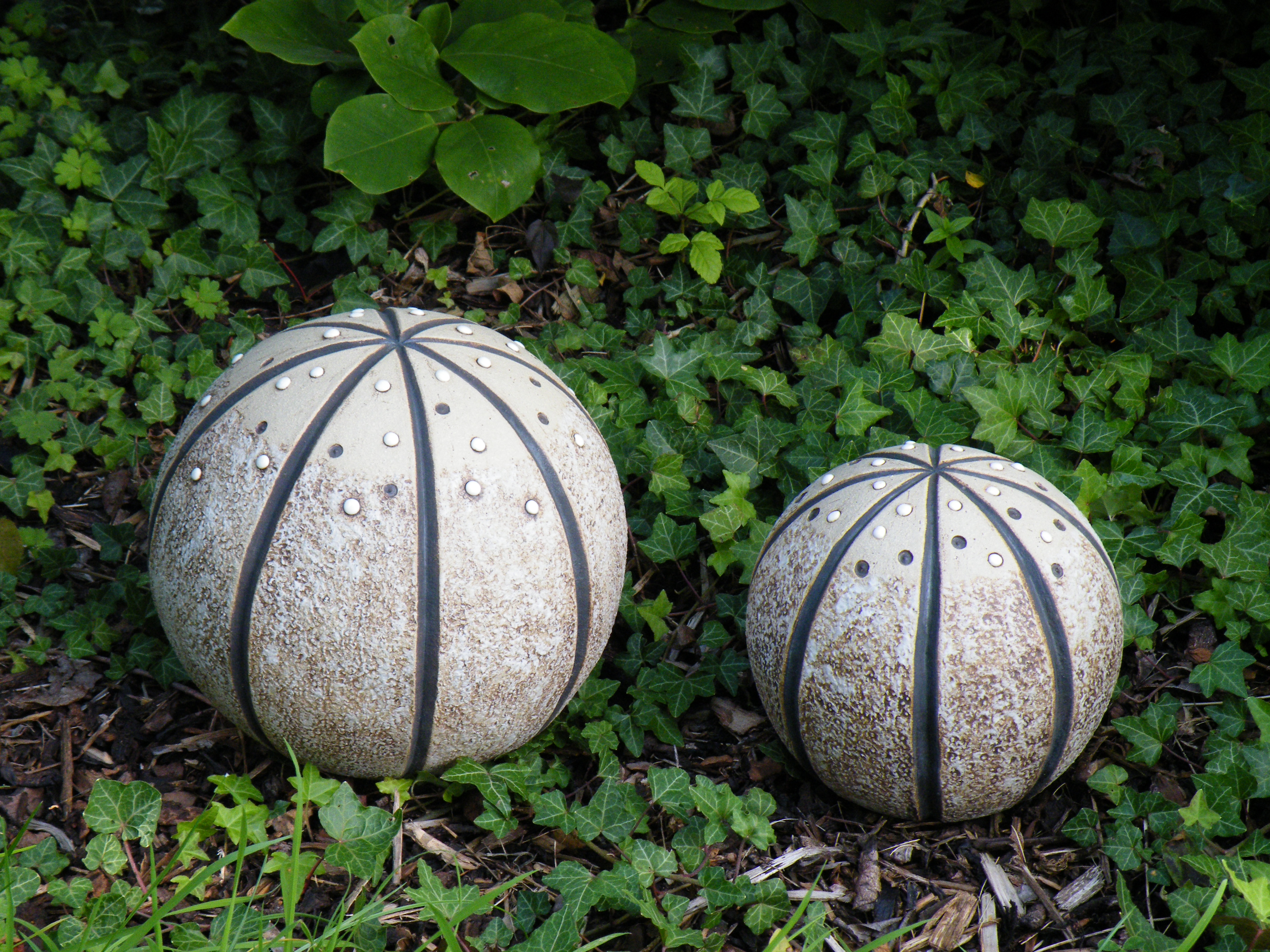 I have been a committee member of Westcountry Potters Assocation since 2003, organising studio visits and demonstration days, constantly learning new tips about how to deal with challenges or getting new ideas to explore in my own way.  I taught leisure classes for adults for Weston College until an overnight cut in funding meant the closure of all such facilities in 2010.  This did however coincide with the chance to rent my current studio at Barley Wood Walled Garden, Wrington, a fantastic opportunity as I'd long outgrown my small shed at home. I still have my potter's wheel and a kiln there, but most of my time is spent at the studio.
The scale of my work is ideally suited to courtyards, smaller gardens or patios, as well as interiors.  I take part in sculpture shows such as the Winter Exhibition at RHS Garden Rosemoor in North Devon, Borde Hill Gardens near Haywards Heath and Sir Harold Hillier Gardens near Romsey, as well as various other art exhibitions or open studio events, and am delighted to have my work on show at The Square.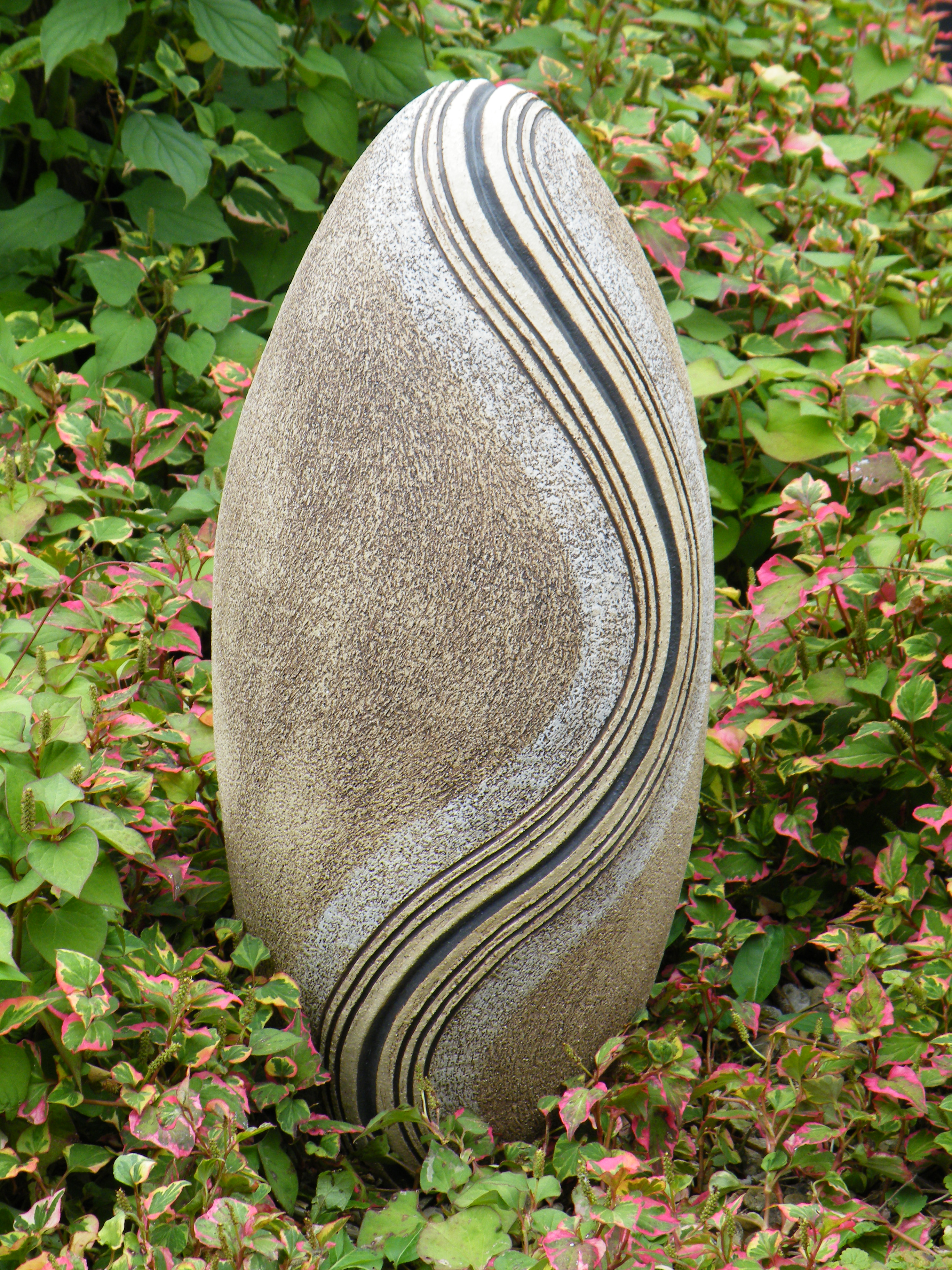 It can take me two to three weeks to construct a sculpture, so I usually have more than one in progress as well as several smaller pieces.  Timing is critical with clay – if it is too soft, the shape could collapse; if it is too hard, it cannot be joined or carved as intended.  Work has to be covered so it does not dry too quickly, especially if I am firing the kiln.  There are so many stages in the process of making, drying, firing, decorating and refiring that despite all my years of experience, I'm always relieved and a little surprised when something is finished to my satisfaction.  The excitement of building a new design, experimenting with a change of shape, or a new material, is a real buzz.  There are so many avenues to explore, so many 'what happens if I…' moments, I am never bored – how many people can say that about their job?
People often ask where I get my ideas – sometimes they just 'grow' themselves, or someone might ask me to make something specific. Just looking at a bud or seed form can be enough to trigger a whole line of suggestions. I do not aim to make accurate reproductions of forms, more to capture the suggestion of a pleasing outline. I do sketch out shapes, but prefer to make a small model of a new form to work out how it will balance or perform in 3D. Although I can and will repeat a design, each piece is a one-off unique item, as the making and decorating techniques mean that no two can ever be identical.
All my work is fired twice in my electric kiln.  The first firing is to 1000 C, after which I apply colouring oxides, liquid clays or glazes, then fire again to 1260 C.  This high temperature firing vitrifies the clay, so the work can be left outside all year round.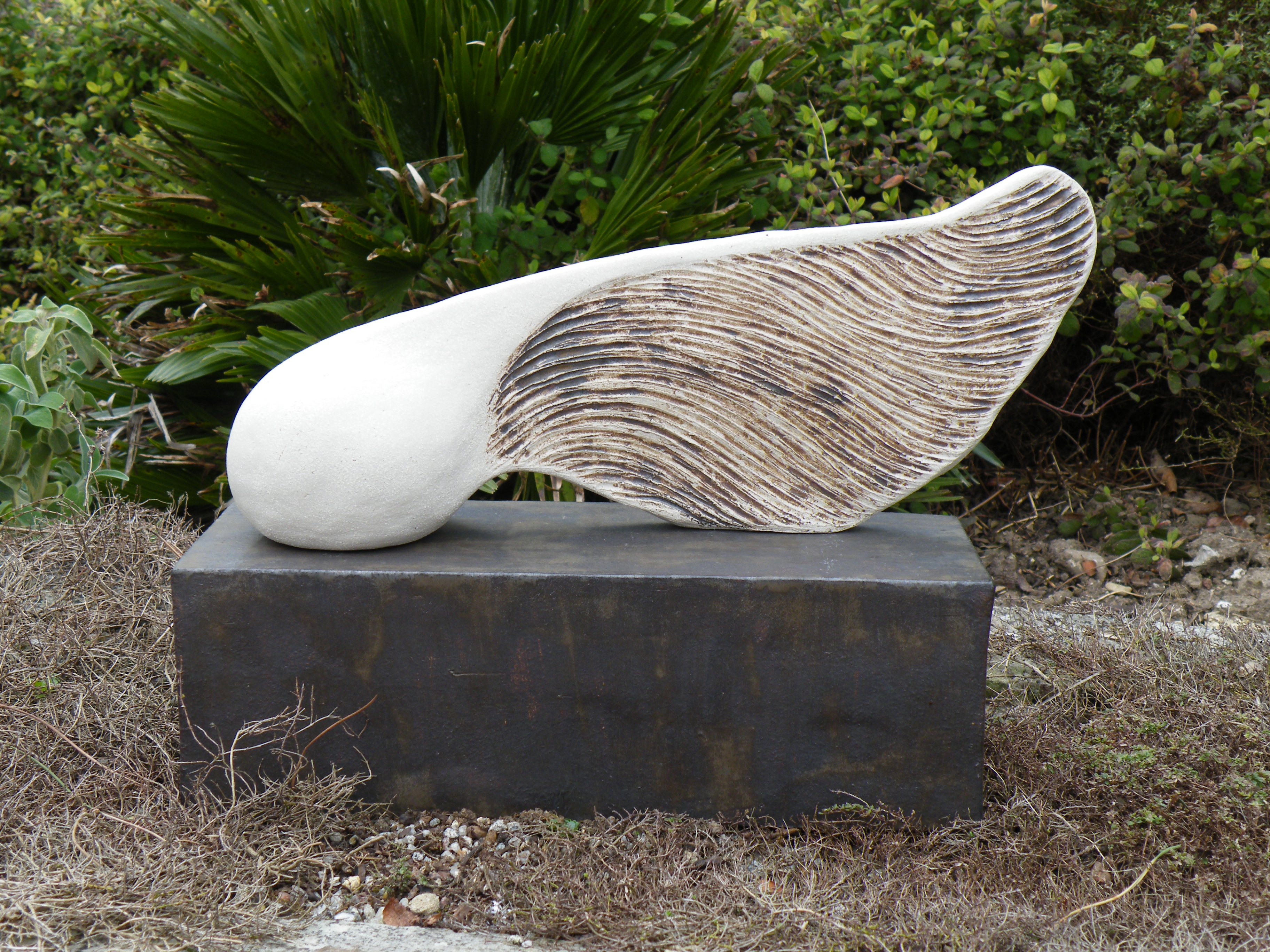 I'm happy to welcome visitors to my studio but it's wise to make an appointment first. For sales enquiries please contact nicol.phillips@thesquareclub.com. You can visit my website here.