How to dress for an Old Hollywood Theme
Style your Old Hollywood look this New Year's Eve!
New Year's Eve is all about celebrating the old and ushering in the new, and preferably doing so in style. Read on to find out about how to dress for an Old Hollywood theme.
The Square Club's New Year's Eve theme this year is Old Hollywood. What is the difference between an Old Hollywood theme and bog standard black tie? Won't most people just walk into Quiz or Phase Eight, close their eyes and select whichever vaguely glittery piece of fabric first presents itself?
The short answer is no. Old Hollywood is not just a theme, it's a lifestyle. For one night only you have the opportunity to embody the icons of old in sultry silks, satins and suits, so why not make the most of it? 
Read on for our top tips on how to elevate your first look of 2023 at The Square Club. 
Sumptuous Fabrics
Silk, satin, velvet, and shiny leather; great to look at, even better to feel. There is nothing quite like the feeling of donning a crisp suit, or floating around in a silk number on a nippy December night. 
The sensory impact of your clothes matters with a theme like Old Hollywood, as luxury is the name of the game. No scratchy cheesecloth here.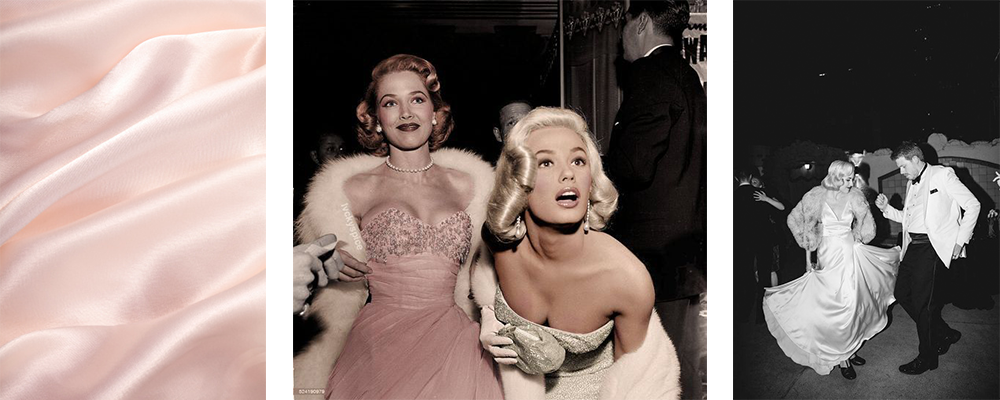 Shopping Vintage 
Vintage pieces tend to stand the test of time because they are of good quality. Vintage pieces have to be looked after, laundered carefully and ultimately, treasured by generation after generation. Incorporating vintage aspects into your New Year's Eve look will not only make it more authentic, but it may prompt fun questions about where you got them from attractive strangers. 
You can look for the best vintage shops in Bristol here. Alternatively, Vestiaire Collective has a great collection of pre-loved designer items.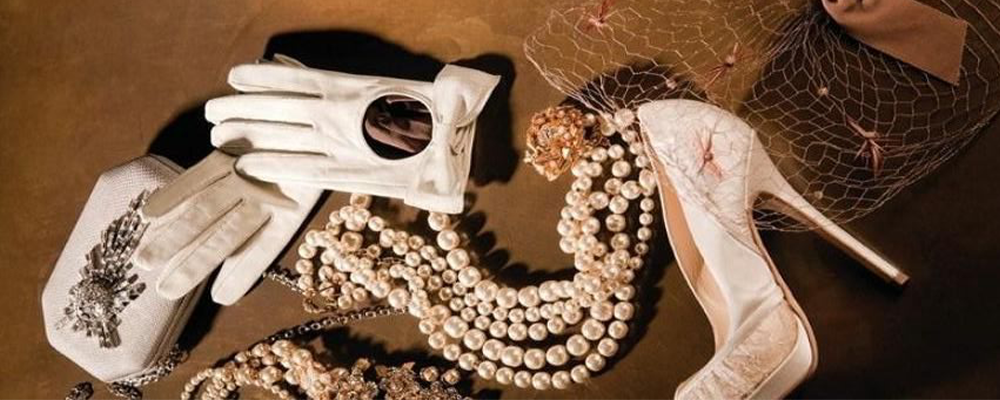 Faux fur 
We are lucky to live in a world where faux fur often looks just as good as the real thing. Consider combining a fur stole with a smooth fabric such as silk or satin for contrast, and stay warm at the same time!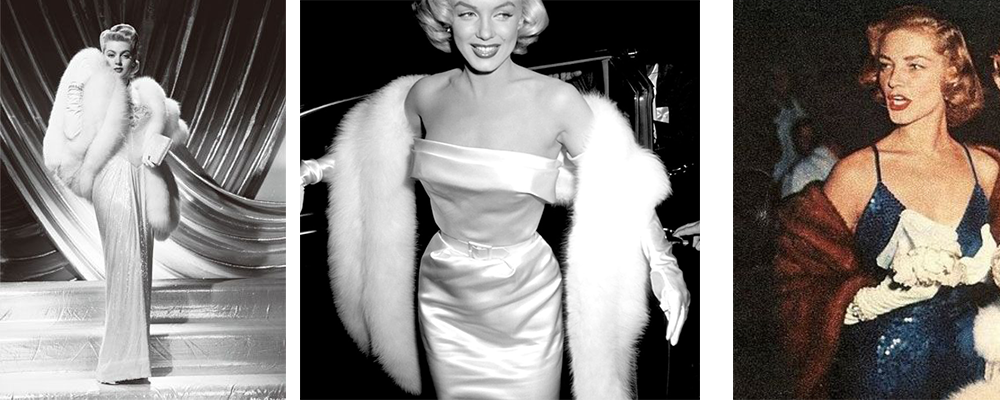 Cigarette Holders
It doesn't matter whether you smoke, you should have a cigarette holder to extravagantly gesticulate with as you speak. Think of Audrey Hepburn in Breakfast at Tiffany's.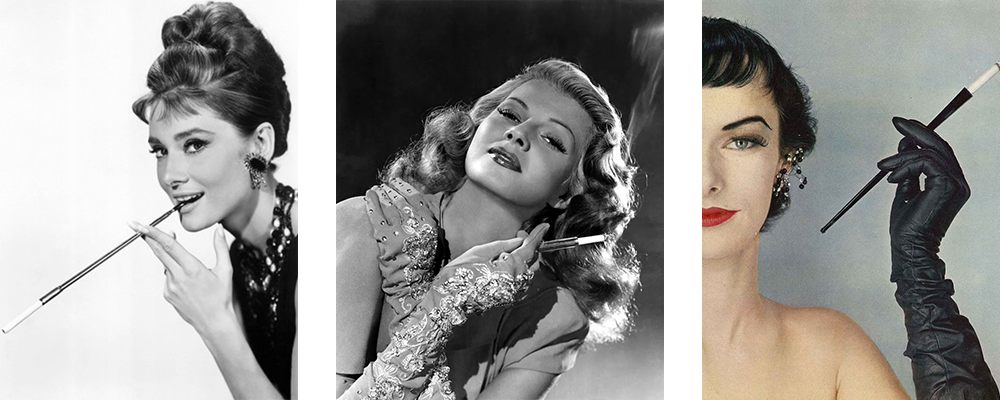 Pearls or diamonds 
If diamonds are a girl's best friend, cubic zirconia is an alluring acquaintance. Skip spilling champagne on the Cartier and dazzle the crowds with a sparkly dupe of the real thing. 
Pearls evoke a similar old school shade of glamour; invest in a lengthy string necklace and drape them down your back for an elegant cascading effect.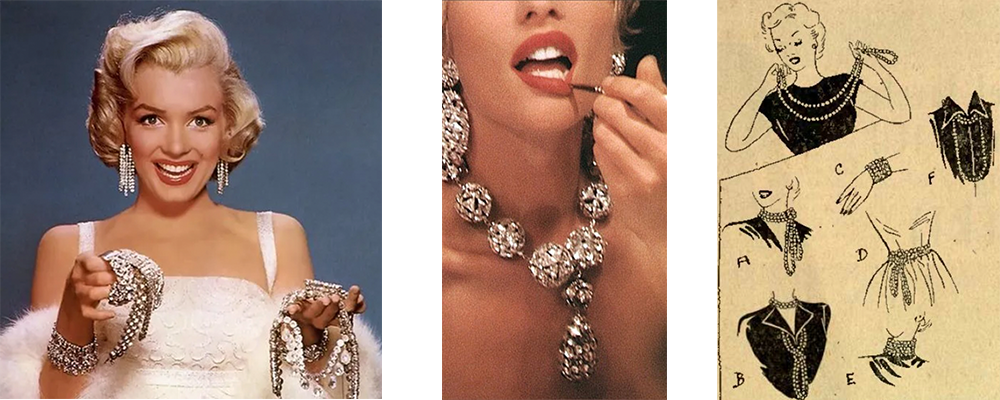 Traditional tuxedos 
Do you know the difference between a tuxedo and a standard suit? 
Traditionally tuxedos have satin facing on the lapels, buttons, pocket trim, and a satin side stripe down the leg of the trousers. Suits don't incorporate any satin and usually have plastic buttons. 
Tuxedos were very popular in the 1950s due to their classic design and incorporation of luxe materials like satin. You can read more about what men wore in the 1950s here. 
Mules 
Ankle support? Never heard of it. 
A pair of delicate mules is the perfect way to compliment a 1950s silhouette. They have come back into fashion recently, especially during summer. Shockingly, due to the range of movement enabled by the design, mules are quite easy to dance in. That being said, please do exercise caution; nobody wants to ring in the new year on a stretcher. 
A good example of some classic feather mules for inspiration is available here.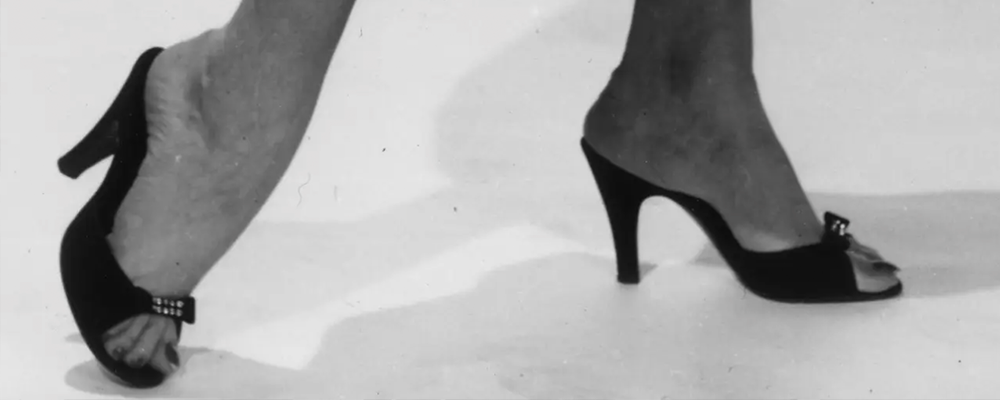 Bowties 
The bowtie is the suave great grandson of the cravat, which originated in the Croatian military in the 17th Century. A bowtie is the ideal way to customise your look so that you don't blend in amongst the sea of suits; it's New Year's Eve, not rush hour at Canary Wharf.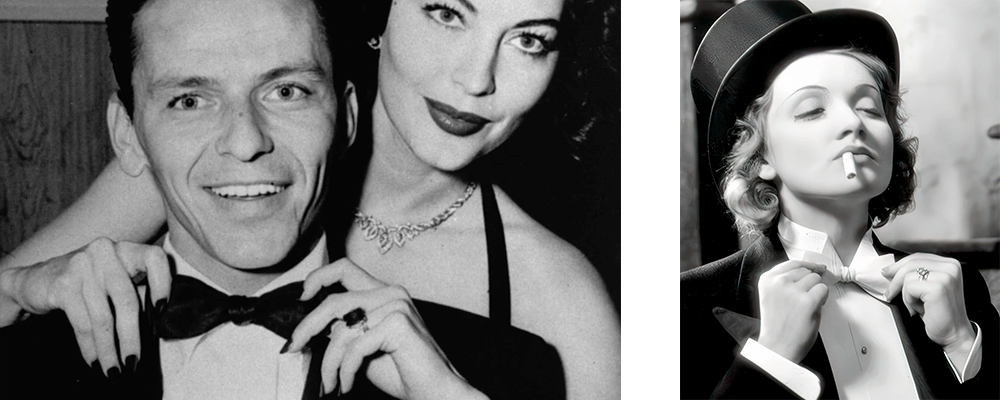 For any more ideas, keep an eye on our Old Hollywood Pinterest board here. 
Thanks for reading! 
PS. Limited tickets are still available for The Square Club's Old Hollywood New Years Eve party.
We're opening the doors to our private members club for one night only. There will be a free bar all night, entertainment, food and more. Find out more here….