"The Best New Years Eve Party Bristol has to offer"
– Metro 
To be the first to find out about our 2022 party, sign up below…

In previous years revellers have enjoyed 'Speakeasy', 'Wonderland', 'Great Gatsby' and 'Mardi Gras'. Tickets are all-inclusive of food and drink (we love a free bar as much as you do), live entertainment and of course, a few extra surprises…

Roaring 20's Themed – New Year's Eve Party Bristol
Ladies and Gentlemen, after a turbulent year and a half Bristol's private members club, is opening its doors for all to attend Metro's "best NYE party Bristol has to offer." 
This is no ordinary shindig, old sport; an all-inclusive ticket will grant you access to a carefree soirée of dancing and revelry. Advance tickets sell fast, so secure yours now and don't give it another thought.

Free  Drink All Night
Drink all you please, at the generous invitation of your hosts… Yes, you heard that correctly – Free Bar All Night, excluding Champagne & Prosecco, which can be purchased from our Fizz bar. Or once you've purchased your ticket you'll be able to pre-order your Champagne for the smoothest experience on the night. 
Grand Buffet
Feast on a sumptuous spread, our glistening and glorious buffet will be served earlier in the evening, leaving the rest of your evening free to enjoy our free bar. Take a look at our sample menu for New Year's Eve, featuring seasonal delights carefully crafted by our award-winning Chef.

Fancy Dress and Entertainment
Guests will dress in black-tie attire with a roaring 20's twist, musicians will perform throughout the evening, a conjurer will wander, and if this isn't enough to inflame your senses, you can even risk your inheritance (fun money) at our enduringly popular casino table.

The Perfect Venue for Midnight Mischief
Upstairs, a live band will welcome you in with their renditions of some 20's music. Outdoors, there will be seating, heating and conversation on our large, Secret Garden, festively illuminated with thousands of fairy lights. Follow the sound of the DJ down to the decadently decorated basement and downstairs bar, where the party will go on into the small hours. Later in the evening, our band will be playing some classics and music from the current day for you to dance the night away to.
And for when you eventually tire, rooms are available upstairs at The Berkley Square Hotel, Clifton, where you may choose to reside for the night, should your chauffeur become riotously inebriated.
All-Inclusive Tickets On Sale NOW…
We operate a variable pricing system with our tickets, the earlier you book, the cheaper your ticket is. So we would advise snapping them up now to avoid missing out on the best value tickets.
So come one come all, in your finest finery, and herald the coming of a splendid 2021 in style at the Square Club New Year's Eve Party, Bristol.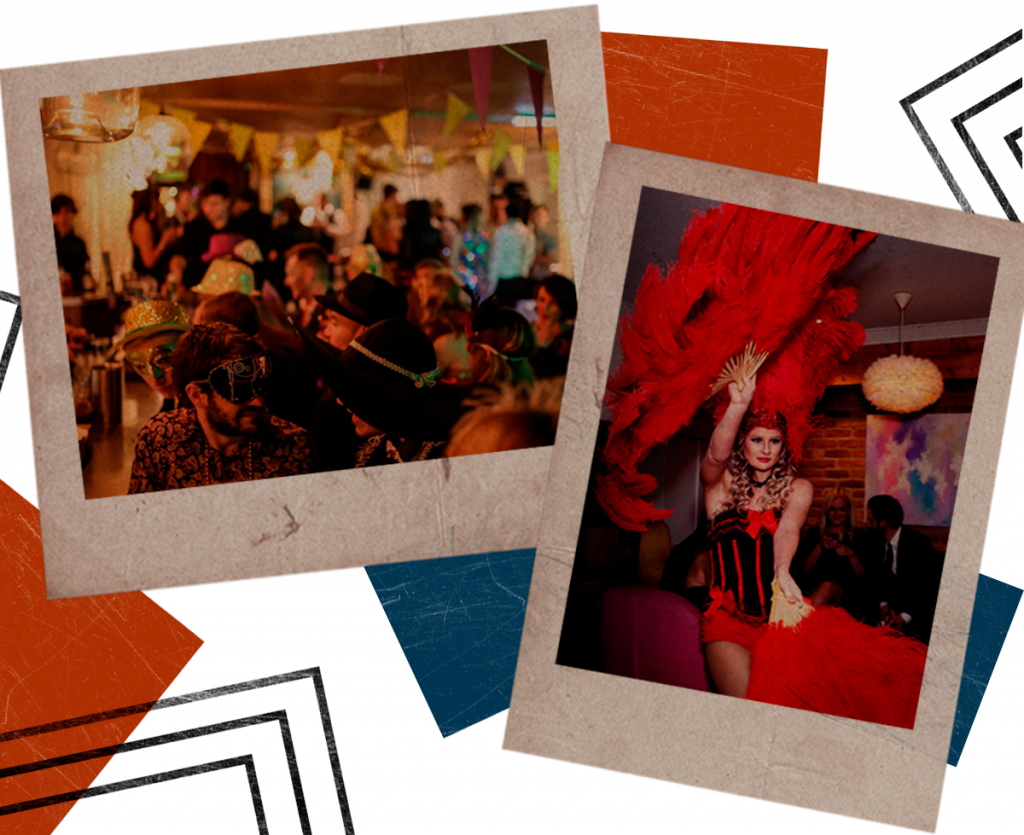 .
Opening Times: 7:30PM – 1:00AM

Why Not Stay The Night?
Forget about finding your way home when the party wraps up in the early hours and stay the night in one of our sumptuous guest rooms. Book a hotel room at the adjoining Berkeley Square Hotel or for a night of ultimate luxury upgrade to the Berkeley Suites  With rooms from just £53. Book your stay for the New Years Eve Party Bristol has to offer, FIND OUT MORE.

"…one of the best New Years Eve Parties in the UK!"
BristolPROSPECTUS

"Bristol's Best New Years Eve Party!"
Metro

FINAL RELEASE TICKETS ARE NOW AVAILABLE
Earlybird & General release tickets are now SOLD OUT. Final release tickets start at £134 but prices will rise soon. Final release tickets go up to £150, so don't hang about! Book the best New Years Eve Party Bristol has to offer for 2021.
We operate a variable pricing system, prices are subject to change at any time – so don't hang about!
Members of The Square club, please purchase the member's only ticket.
KEEPING YOU SAFE AT THE SQUARE CLUB'S NEW YEAR'S EVE PARTY
In line with government guidance, for entry to our NYE party, we will require an NHS COVID pass showing vaccination status or a recent negative lateral flow test. For more information on how to get an NHS pass please click here. Or read the following advice taken from the NHS website.
To get a digital NHS COVID Pass for domestic events and venues, you need one of the following:
– To be fully vaccinated (2 or more jabs) with a COVID-19 vaccine used in the UK
The NHS COVID Pass is usually available 2 weeks after you're fully vaccinated.
– A negative PCR test or negative lateral flow test within the past 48 hours The NHS COVID Pass is available as soon as you get your result. If you did a rapid lateral flow test at home, you need to report the result first. Find out how to report a rapid lateral flow test result.
– To be part of an official COVID-19 vaccine trial in England or Wales
The NHS COVID Pass is now available to you. Contact your clinical trial site if you cannot get your domestic NHS COVID Pass.
– A confirmed medical exemption from COVID-19 vaccination or testing
The NHS COVID Pass is available once a doctor, clinician or midwife has approved your exemption application. COVID-19 medical exemptions: proving you are unable to get vaccinated (GOV.UK).
Thank you for understanding, our main priority this year is keeping everyone safe whilst they celebrate. 
T&C's
Our stance on NYE is that if the Government introduce guidelines that mean that the event can't go ahead (eg due to Covid / lockdowns) then we will fully refund everybody.
If however, some guests choose not to come for their own reasons then they will forfeit their payment, but they can of course sell it on to somebody else (If you would like to do this please contact us with the name of the new ticketholder and pass them on your QR ticket).

New Year's Eve Menu