A match made in heaven, but celebrated at The Square.
".. thank you for making sure our wedding day was the best and most memorable of our lives. You and the rest of the team absolutely blew us away with how efficient, fun and generally lovely you were"
Ross & Evelyn, Oct 2015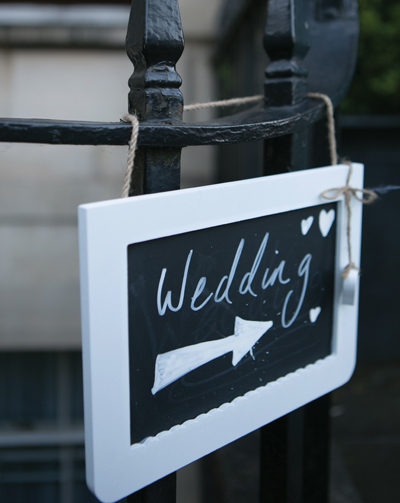 Fully licensed wedding venue in Bristol
We are proud to be a fully licensed wedding venue. Couples can tie the knot in our contemporary top level area, which has space for 70 seated guests. After a romantic ceremony, your expertly prepared wedding breakfast will be served in our restaurant The Square Kitchen. The large restaurant area is great for speeches and the Georgian sash windows add an airy feel to our vibrant venue. Later, The Square transforms into one of the premier wedding reception venues in Bristol. Our Lower Deck Cocktail Bar is complete with a dancefloor and music license, and we can arrange for a DJ or live band, or you can bring your own. Make use of our outdoor, heated Terrace during the summer months, indulge in a cocktail or two, and enjoy the unique versatility of the venue with your friends and family.
To top it off, our adjoining sister hotel, The Berkeley Square Hotel, has 41 rooms and 5 serviced luxury suites. We are happy to help assist with bookings and special rates, via hotel reservations, for your family and friends to stay over and have breakfast together. Some of recent wedding guests called the Suites "a beautiful location with great facilities…space for drinks, hairdressers, children running around – whatever you need." At The Square, we can cater to every aspect of your day!
For the perfect photo opportunity you can make use of the gardens of Berkeley Square, our neighbouring Brandon Hill Park, or make the short trip to Clifton's famous landmark the Suspension Bridge.
We are very experienced, not just in meeting, but exceeding your expectations. Our in-house events planner will talk you through every aspect of the day, from the ceremony, pre-wedding breakfast options, sit-down meals and of course the party.
Book a viewing and discover our fantastic venue first hand.
For all wedding enquiries please email Mika or call her directly. email: bookings@thesquareclub.com tel: 0117 9210455 – alternatively use the contact form below.
View Our Wedding Brochure Here
FAQs
Can I mix and match the wedding packages to create something more bespoke to me?
Yes you can. Our packages are simply guidelines of what we have to offer – feel free to send your ideal package over to our wedding coordinator who will be able to tailor a package price specifically for you!
Does the venue have wheelchair access?
We have wheelchair access throughout the venue's indoor areas via ramps and a lift, however unfortunately the terrace and garden aren't wheelchair accessible. Please do let us know in advance if you will need the ramps.
Can I bring my own band or DJ?
You certainly can – it's your wedding day, so book whichever band you like! We have our own in-house PA system tailored to the venue, and you or your band/DJ will be more than welcome to come in and see our space and system requirements. Similarly, if you would like the PA specifications sending over, please get in touch with our wedding coordinator.
Do you have bands or DJs you could recommend?
As a venue we host lots of weekly music nights, so have a long list of local bands, musicians and DJs across various genres who we would be more than happy to recommend to you. Just let us know your preference and we will get in touch!
Can we dress the venue as we wish?
The venue is yours for the day, so dress it how you wish (within reason!) On the day, leave it to us to set up your decorations – we take pride in making your day as stress-free as possible.
What about the outside of the venue?
Unfortunately, as we're a listed building on the historic Berkeley Square, we're unable to give you the option of decorating outside the building. This does include throwing confetti outside the venue or in the square's gardens – but please do feel free to throw it inside the venue. Rest assured that leafy gardens and beautiful Georgian houses of Berkeley Square make an ideal backdrop for your photos without any added extras!
Speaking of venue dressing - what about the art on the walls?
Our in-house art exhibitions run on a 6-monthly basis and features work from local artists. We hope you will love it as much as we do! It is possible to take down the two pictures either side of the mirror in the lounge if you prefer the look of bare brick during your ceremony; alternatively, we find that the paintings photograph extremely well and add to the unique atmosphere of your special day.
All the pieces are also for sale – and as wedding members, you will be entitled to a 20% discount off the listed artwork price – just ask one of our friendly team for more information. Taking home one of the unique pieces featured in your wedding photographs is a perfect memento of the day.
Do you provide tablecloths?
We can provide white linen tablecloths on request if you choose to have your tables clothed.
Have you got highchairs?
Yes, the venue can provide a small number of highchairs – please let us know in advance if you will need them.
Where can we park our car?
Guests of the Berkeley Square Hotel (adjacent to The Square Club) can reserve a parking space on checkin for £7/night – this will have to be arranged through the Hotel's reception.
Short-stay parking is available on the Berkeley Square itself, using pay-and-display. After 6pm, you can also park on the single-yellow lines free of charge.
Long-stay parking is available at the West End multi-storey carpark, a 3-minute walk from the Square. It is located at the top of Jacob's Wells Road, BS8 1EH.
Can you cater for dietary requirements and allergies?
We are happy to cater for all dietary requirements, but request that you let our wedding coordinator know well in advance, along with all the rest of your menu pre-orders, so that she can advise our chefs accordingly.
What are your licensing restrictions?
Music can be played, and drinks can be served until 1am; you then have a 30-minute 'winding down' time for people to finish their drinks and say their goodbyes. We just request that you leave the venue quietly and are respectful to your neighbours.
What about corkage and cakeage?
For wine, our corkage £10/bottle, and for champagne, our corkage £15/bottle.
You're more than welcome to bring your own cake, but if you would like this to be sliced by our kitchen and served to your guests, we charge a £1 per person "cakeage" fee. Please let us know in advance if you will be bringing your own cake as we have several options for displaying and serving it.
Can I book a room in the hotel - and how about hotel accommodation for my guests?
Our central hotel reservations team will be happy to help you book the rooms you require. Simply give them a call on 0117 946 7469 or email
reservations@cliftonhotels.com
The Berkeley Square Hotel adjoins the Square and has 42 guest rooms and 5 luxury serviced suites. (These are perfect for getting ready in, and photograph wonderfully.) We also have several sister hotels located in Clifton Village, a 10 minute walk away.
What does the membership of The Square get me?
Please read more about being a member of The Square
here
, or on our main
Membership Page
– we're sure you won't be disappointed!
Wedding Album