Artist Interview: Genevieve Caminade
Our current exhibition at the Square Club is Genevieve Caminade's Interior Space that showcases abstract geometric paintings and fabric design by the artist. This presentation re-imagines what the interior space can be when approached in a bespoke and interdisciplinary way. See below our artist interview with Genevieve for more insight into her practice…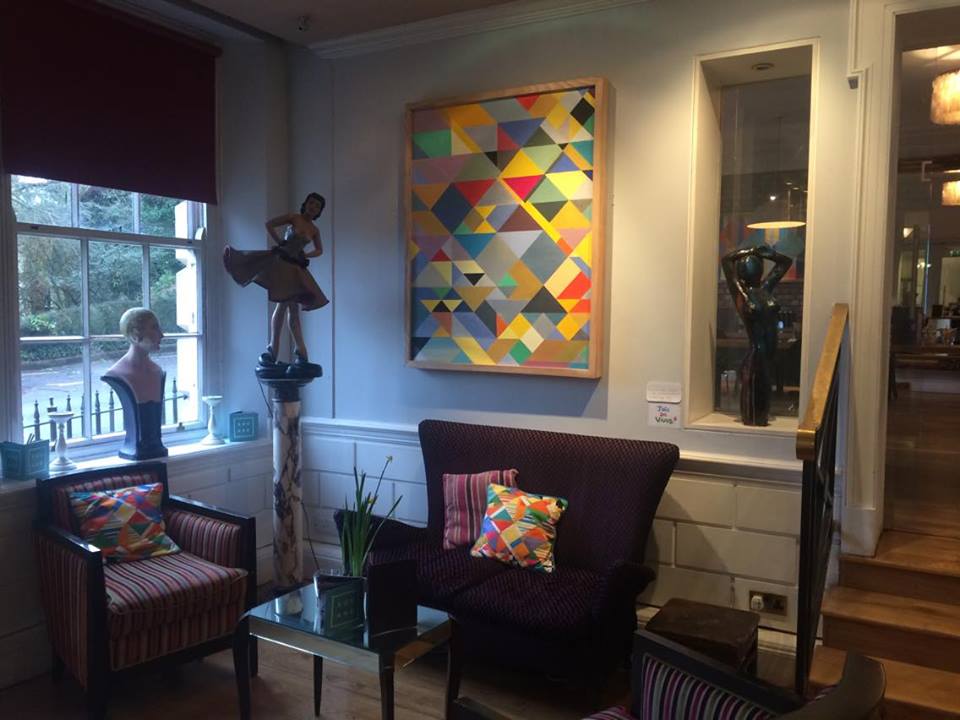 1) You completed a post-graduate at The Royal College of Art, London – what are the main ways that your arts education influenced your practice?
Studying and being creative at the RCA gave me a special time to give myself over to my artistic pursuits, and to be totally focused on my projects in the company of some inspiring tutors such as Eduardo Paollozi. 
2) Please can you tell us about any exhibitions you've been a part of that really stand out for you and why?
Exhibitions that really stand out for me are: 
The Joie De Vivre art gallery/shop that myself and a friend created in Picton Street, Bristol. This venue showcased our paintings and many other Joie DeVivre creations.

A solo exhibition of my large wall hangings on fabric accompanied by some ceramic pieces at Artface gallery in Glastonbury.

A ceramic vessel that was exhibited at Whitechapel Gallery as part a previous Open Exhibition group show.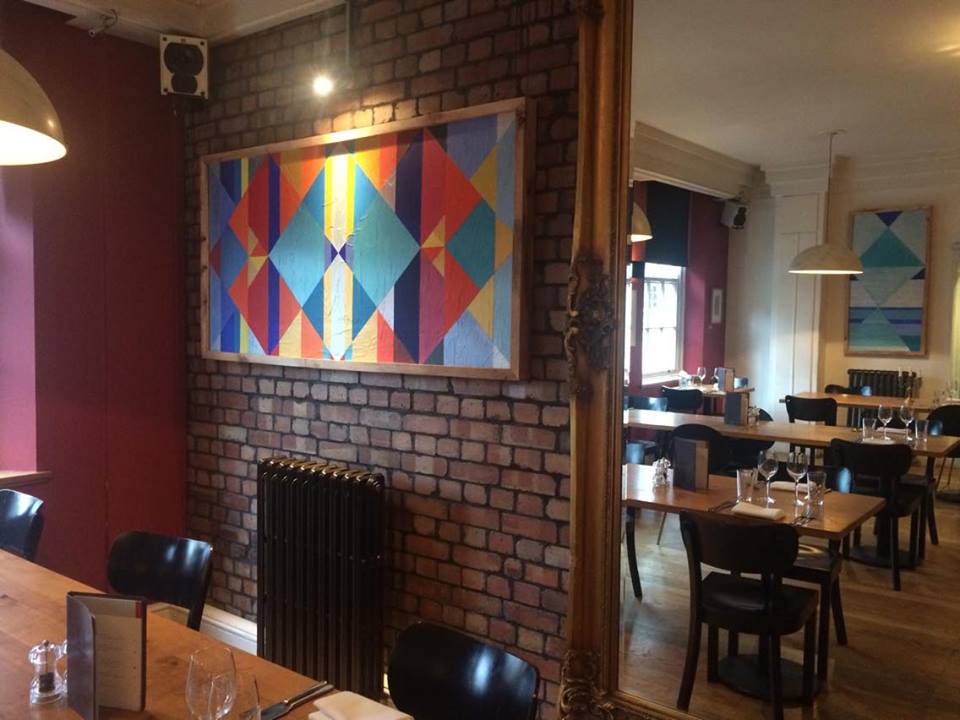 3) How do you view your individual paintings in relation to the wider 'Abstract Geometric' series?
The way I move from painting to painting is very intuitive; a process that is quite difficult and not easy to put into words.
4) What is it about abstract geometric forms that interests you?
I am very interested in colour, texture, geometry and the poetics of space. My imagination likes to explore these various avenues – combined with interests in other subjects. However, it really takes shape in the process of imagination, mood and doing. When working on a interior design project for a client I offer input but mostly work to specifications.
5) Who/ what are your main influences when making new work?
Each artwork has a different starting point, a different story and a different inspiration.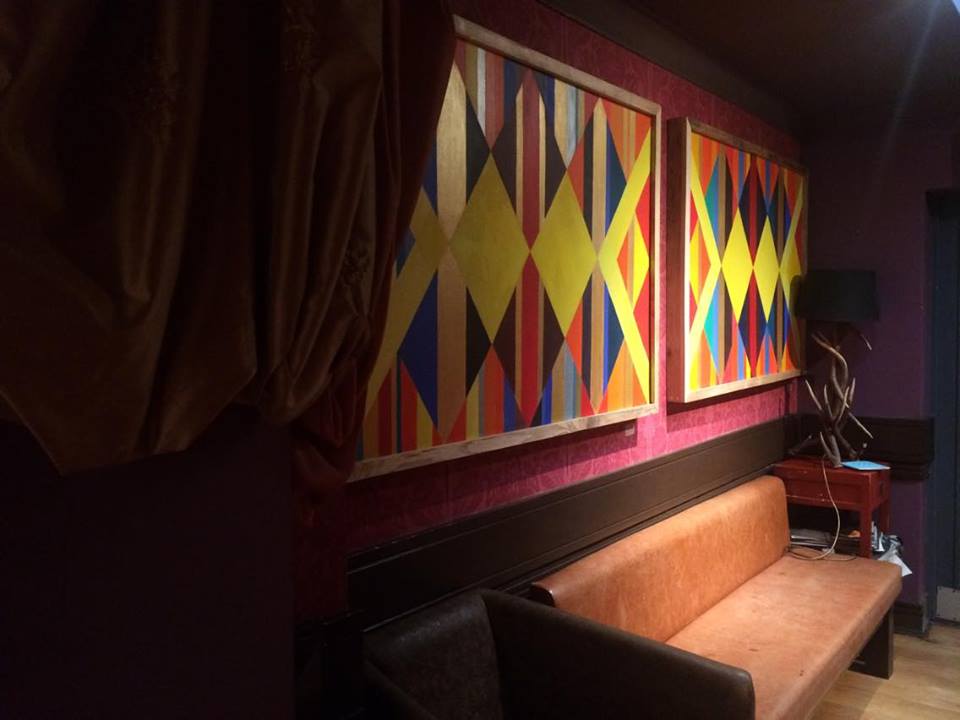 6) In the current Square exhibition Interior Space we are presenting your paintings alongside fabric design – how do you feel these two parts of your practice feed into one another?
There is a definite correspondence between my latest paintings and the Joie De Vivre textile design. The interplay between the both is what interests me.
7) Do you have any upcoming exhibitions/ how do you envisage your practice developing in the future?
I would like to have more exhibitions that bring together various aspects of my artistic work i.e. paintings and textile artworks. I would like also to take interior design to another level and work on interior design commissions with the clients brief fully taken into consideration – making paintings alongside some Joie De Vivre textile creations. I want to transform interiors with a unique, bespoke and vibrant look.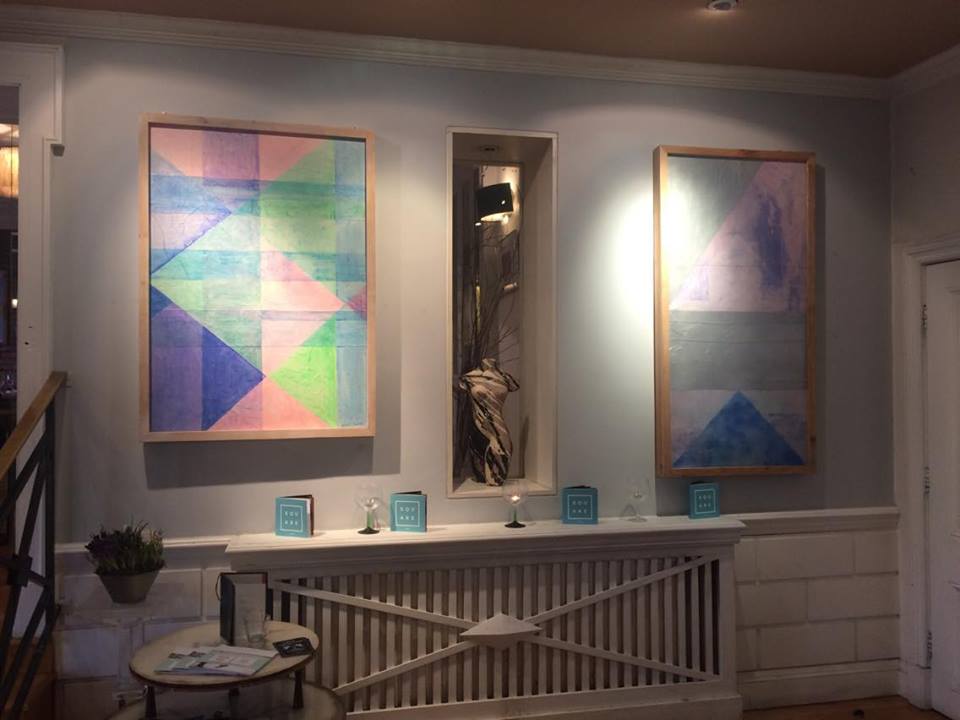 EXHIBITION DETAILS:
Preview: 27 Jan, 7pm – 9pm + Cabaret Voltaire, 9pm – 11pm 
Exhibition dates: 28 Jan 2016 – 10 April 2016
http://www.genevievecaminade.co.uk/
**All works are for sale. With sales enquiries please contact: nicol.phillips@thesquareclub.com