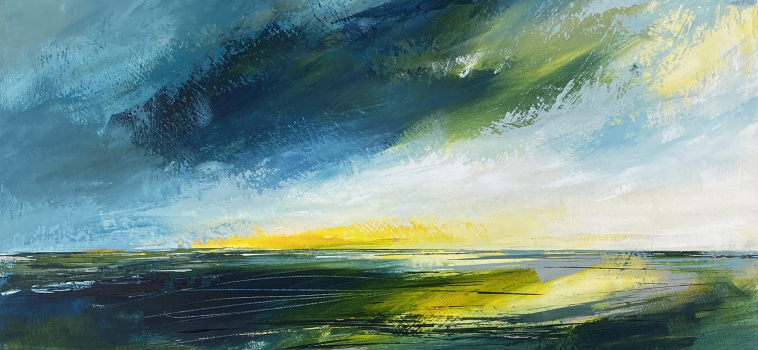 How to make it as an artist in Bristol
You've perfected your unique art-style, created a portfolio of pieces, but what are the next steps for taking your artwork pro? Read on for our top tips on making a name for yourself!
1. Get your work featured locally
Scoring an opportunity to feature your artwork in a gallery can be difficult but exhibitions are an important way for buyers to find your work. However, many restaurants, coffee shops, and bars like to feature local artists on their walls, providing budding artists with an excellent opportunity to showcase their skills. Pizza on the Park has a collaborative exhibition of art from lots of Bristol artists – a great space if you only have a few pieces you'd like to show. Alternatively, The Square Club hosts a solo exhibitions across three spaces; check out this exhibition by Karen George!
2. Find a professional work space
Moving from amateur to professional is an exciting time in any artist's career, but it can come with a lot of extra work. Responding to emails from potential clients, managing your social media presence, and managing your finances are just some of the additional tasks involved. Having a dedicated space to work from allows you to keep your creative and business minds separate, maximizing your productivity and giving you a break from the studio. For those of us not lucky enough to have office space at home, co-working spaces have begun cropping up in most cities, where you can rent a workspace for a monthly fee, allowing you to lean into your professional role as a business owner. 
3. Find the right audience 
Finding the right buyers for your art is key to taking your business professional. Many may enjoy seeing your work on display but only certain people will be willing to pay a premium price tag. Getting your work seen by experienced art collectors will greatly increase the likelihood of making a sale. Research other artists in your style and get to know the important people in your area. Is there a particular gallery that showcases your style of work, or any arty bars and restaurants where collectors are likely to congregate? Knowing where to show your work is key to making a profit. 
4. Networking 
Once you've found the audience, networking is vital to being successful in the art world, having mutual connections could be the difference between getting that art show, finding an interested buyer, or getting discovered by the right person. For someone new to the industry who is looking for a way into these communities there are a number of great opportunities for networking. Search for local groups or clubs you can join for like minded creatives, visit exhibitions or art shows and get talking to people – you never know which connection might be the one that makes all the difference and networking events can give you an opportunity to meet industry professionals in a more casual setting – for example Bristol Creative Industries regularly hold networking drinks (for tickets to the next one happening in June, click here). 
5. Taking the time to relax 
Between creating art and being a successful business owner it's important to take the time to unwind and reset. Too much work can be damaging to our mental and physical health and a 2022 study by TWNA worldwide revealed creatives are more likely to experience burnout than any other category so it's important to take some time for yourself where you can! How about some morning yoga to start your day off with positive energy, treat yourself to a meal out (if you're near Clifton this summer you can take advantage of the this summer tasting menu – 5 courses with wine pairing for just £65) or, if you're more of a night owl, heading to one of Bristols premier parties or going for a cocktail. You create your best work when you're happy, healthy, and well rested so taking a break is vital to an enduring career.