All Terre Gang presents the Bike Waffle talk series featuring local legends, explorers and all round inspirational badasses pushing boundaries on bikes. Maybe after an evening hearing their tales, you'll be enticed to do the same!
January 23, 2023
6:30 pm - 9:30 pm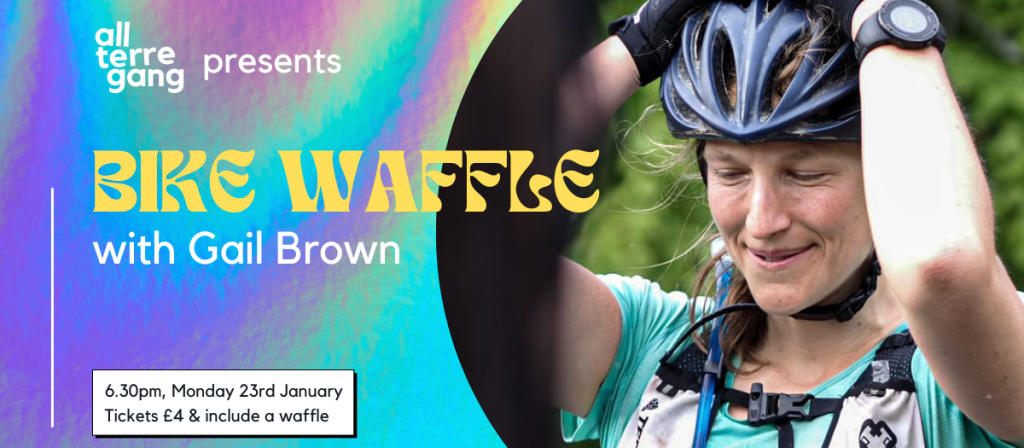 First up to join us for Bike Waffle is Gail Brown, a Bristol-based ultra cyclist, competing in some of the toughest, self-supported bike races on the planet. If you've ever been intrigued by the world of ultra racing she will offer a unique perspective that will make you want to enter one right away. 
In 2019, after becoming jealous of her partner skiing across Antarctica, Gail entered the Transcontinental Race. It's a single-stage race in which the clock never stops. Riders plan their own route between set checkpoints that stretch across Europe (Gail's was 4,200 km) and choose when and where to rest. They take only what they can carry and consume only what they can find. She was the third woman to finish and 28th overall…and so began an impressive journey into ultra.
Since then Gail has gone on to complete GBDuro in 2020 – the year riders weren't allowed to buy anything from shops or even use an indoor tap to refill water – thanks Covid! She had a bumpy ride for Further East 2021 literally and figuratively. This year she put in an incredibly solid ride for the Highland Trail 550 and after 5 days and 11 hours out on the trail she was the first woman home.
Gail is going to share her approach to racing ahead of the Atlas Mountains Race in February. Want to hear how she embarked on even trying an ultra, how she breaks down a race, and the lessons she has learned along the way?
Then join us on Monday 23rd January, 6.30pm at The Square Club, Berkeley Square.
Tickets are £4 and you'll get a waffle to go with the waffle.
You might also like