Shaun Attwood is a former stock-market millionaire and Ecstasy distributer turned public speaker, author and activist, who is banned from America for life. His story was featured on National Geographic Channel as an episode of Banged Up/Locked Up Abroad broadcast to tens of millions of viewers in over 40 countries.
Curious about his story? Read on here…
August 12, 2019
7:00 pm - 9:00 pm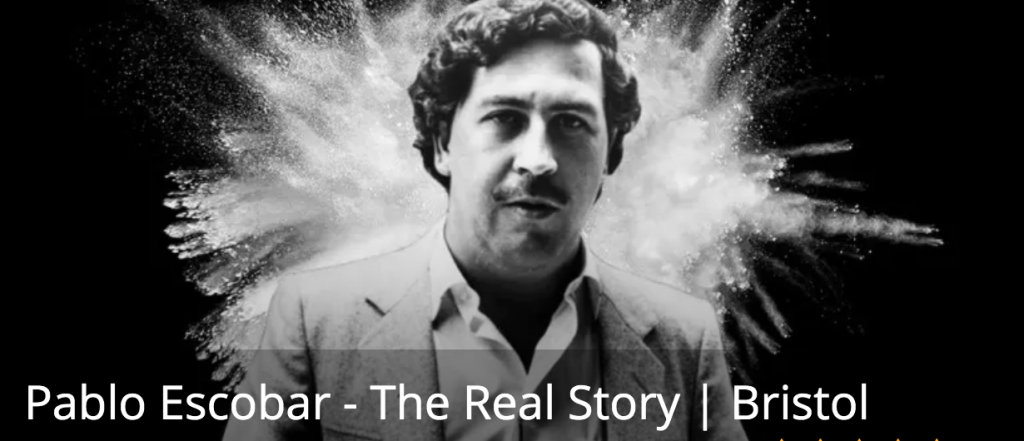 After 3 Seasons of the cult series on Netflix "Narcos", Shaun Attwood – an author, activist and public speaker – will be presenting the mind-blowing true story of Pablo Escobar and the Medellín Cartel beyond their portrayal on Netflix.
Colombian drug lord Pablo Escobar was a devoted family man and a psychopathic killer; a terrible enemy, yet a wonderful friend. While donating millions to the poor, he bombed and tortured his enemies – some had their eyeballs removed with hot spoons. Through ruthless cunning and America's insatiable appetite for cocaine, he became a multi-billionaire, who lived in a $100-million house with its own zoo.
Shaun's story of rave parties and Ecstasy distribution was featured worldwide on National Geographic Channel's Banged Up Abroad. Shaun spent the last several years writing a War on Drugs trilogy. The first instalment, Pablo Escobar: Beyond Narcos has stormed the Amazon charts and become an immediate bestseller. It demolishes the standard good versus evil telling of Pablo's story. The authorities were not hunting Pablo down to stop his cocaine business. They were taking it over.
Get your tickets with this link.
You might also like