Every Tuesday from 12:40 to 1:30 pm, there will be a free yoga session on the tranquil Berkeley Square and this week is free! Practice Yoga in a chilled and fun environment. Be zen, stretchy and strong. Yoga with Tilly Classes are informal and suitable for all abilities.
August 6, 2019
12:40 pm - 1:30 pm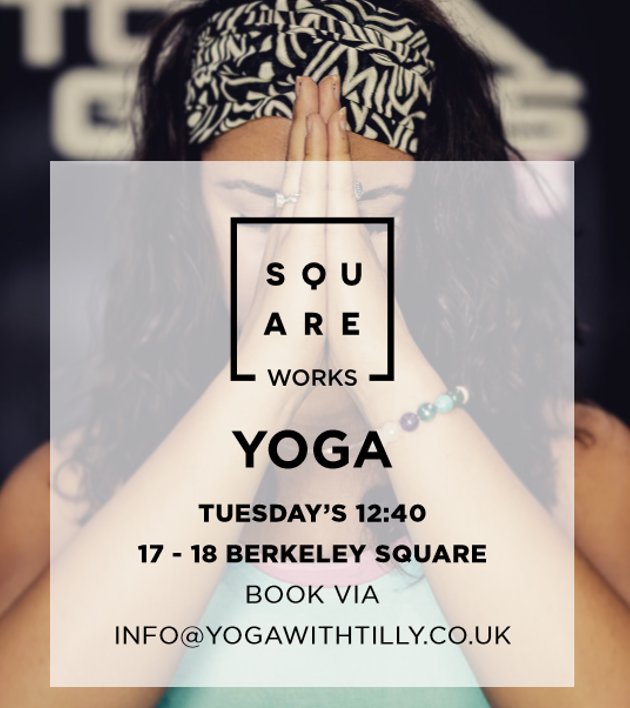 Every Tuesday from 12:40 – 1:30 pm, Square Works will be hosting a 'Yoga with Tilly' class in Berkeley Square Gardens.
A note from Tilly:
'I'm Tilly and I am a Yoga Instructor from Weston-Super-Mare. I run classes in and around the area and have been for around two years now. I first started taking yoga seriously when I was advised to try it out during hospitalisation for Anorexia Nervosa – no medicine or clinical could have me feel more at home and more accepting of myself. Yoga has taught me to let go and embrace what is needed to evolve and love. I say I am a Yoga Teacher but I prefer to say I'm just Tilly and I provide students with the tools to embark on their own Yoga journey, their own journey of acceptance, love and stability.  I teach, predominantly, Hatha Yoga however I like to offer Yin and Vinyasa flow for some classes too – depending on the mood! Be prepared to enjoy my homemade aromatherapy sprays and live music through practice.
RSVP with the Free Ticket below if you are interested!
You might also like