WHAT IS LOVE?
WHAT IS ATTRACTION?
Molecular Genetics experts Dr Liora Vilmovsky & Dr Adi Naamati will be joining us to explain just that Wednesday, August 14th. A sell-out event, book in soon for space!
August 14, 2019
7:00 pm - 9:00 pm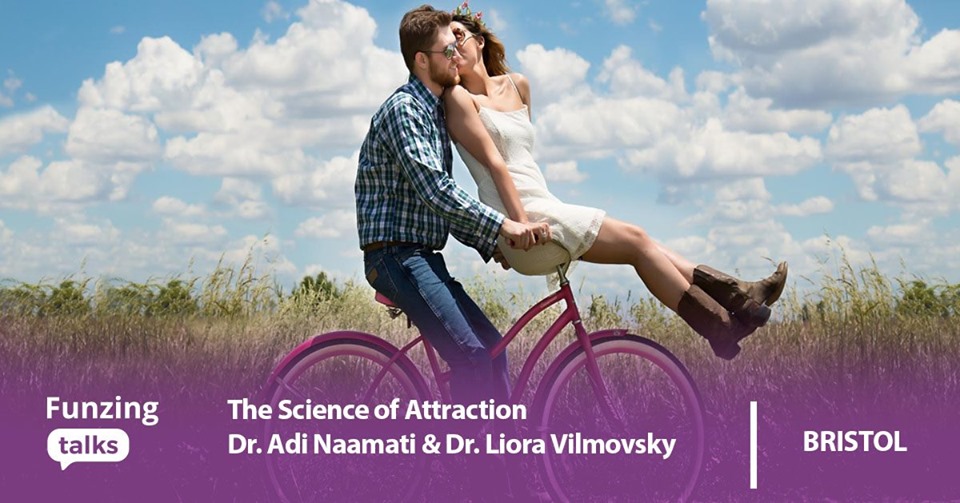 A question we all are curious about. What actually makes us attracted to a specific person and what causes us to fall in love? WHAT IS LOVE?
Molecular Genetics experts Dr Liora Vilmovsky & Dr Adi Naamati explain the 'love hormone', the science triggering our emotions. In this talk, They will review the different forces that gravitate us toward another person, explore the biological purpose of love, and what processes cause this emotion in our brain; looking at the 3 x stages of love, what is the goal is for each, and the different hormones involved.
They will specifically elaborate on attraction, why are we attracted to one person and not another. What are the factors we are not completely aware of, and can we really be certain that attraction in solely biological driven?
The love expert speakers involved
Liora Vilmovsky holds a PhD from the Molecular Genetics Department at the Weizmann Institute of Science, and she recently finished her Postdoctoral research in Cambridge. Her 15 years of research include topics in Cell Biology, Genetics and Neuroscience.
Adi Naamti holds a PhD from the Molecular Genetics and Microbiology Department at the Hebrew University of Jerusalem. At present, she is a postdoctoral fellow in the Department of Medicine at Cambridge University. Her research focuses on Biochemistry, Cell Biology, Microbiology and Virology.
Doors: 7pm / Talk starts: 7.30pm.
Get your tickets here.
You might also like